Occombe Valley Woods
Type:
Parkland/Woodland Garden
Preston Down Road
,
Preston
,
PAIGNTON
,
Devon
,
TQ3 1RN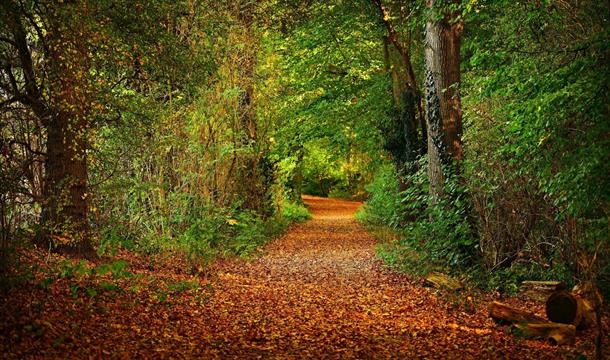 Book Tickets
Reviews
Events
About
Enquiry
Map & Directions
Opening Dates and Times
Occombe Valley Woods
(1 Jan 2022 - 31 Dec 2022)
Book Tickets
About
The walk through Occombe Valley Woods includes pathways that are mostly gently sloping, although sometimes it does get steeper and does include some steps. This is a great place to take dogs, especially during hot summer days.
A dedicated local nature reserve and ancient woodlands, Occombe Valley is managed by the Torbay Coast and Countryside Trust. The woods are situated just in between Occombe Valley Road and Sandringham Drive, and can be entered from numerous places. The surrounding places are mostly residential and so adjacent parking is limited, however, why not begin your walk at Occombe Farm which offers car parking, toilets and a café.
The mature trees provide a great canopy which keeps the woods cool even on the hottest of days. There is also a stream running through the middle, making it a great place to go dog walking in the heat of summer.
The dense woodlands are home to much wildlife, including squirrels, badgers, foxes and even deer.
TripAdvisor
Occombe Valley Woods
What's Nearby
Torbay Coast & Countryside Trust (TCCT); is a local, independent conservation charity. We…

0.13 miles away
Oldway gardens are beautiful grade ll heritage gardens to found in Paignton in the heart…

1.05 miles away

OurGlass produce an innovative range of studio glass using traditional glassblowing…

1.18 miles away

Manscombe Woods are the woodlands next to Cockington Country Park. Begin your walk at the…

1.22 miles away

Behind the Manor House within Cockington Country Park, you will find the peaceful Tudor…

1.35 miles away

An English Riviera UNESCO Global Geopark Key Site. 

Cockington is a quintessentially…

1.36 miles away

At the heart of Cockington Village lies Cockington Court, a manor house with roots in…

1.39 miles away

Take your seats and let the show begin as the curtain rises at one of Devon's favourite…

1.43 miles away

A short walk from Paignton is Preston Sands, a great family beach. On this safe, clean…

1.47 miles away

Hollicombe Beach, sits between Torquay and Paignton. With its distinctive red sand backed…

1.47 miles away

The park is edged all around by trees sheltering it away from the town and, once inside,…

1.54 miles away

A warm welcome awaits you at Dartmouth Steam Railway & River Boats. We provide steam…

1.6 miles away

Paignton Beach offers the ultimate family day out at the seaside. With a sandy beach,…

1.64 miles away
Previous
Next