Rose Garden - Cockington
Rear of Cockington Court
,
Cockington Village
,
Torquay
,
Devon
,
TQ2 6XA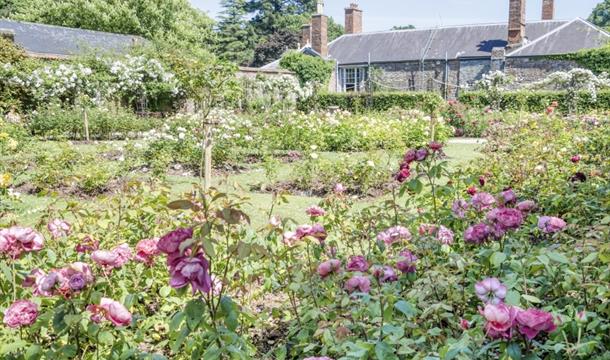 Book Tickets
Reviews
Events
About
Enquiry
Map & Directions
Book Tickets
About
Behind the Manor House within Cockington Country Park, you will find the peaceful Tudor Rose Garden (managed by Torbay Coast and Countryside Trust) and also the Walled Art Garden (managed by TDA), which is currently undergoing a transformation into an additional attraction and inspiring creative garden space.
The Walled Art Garden is also home to The Feijoa Project, a CIC community project for vulnerable adults, many of whom have a learning disability. The project takes its name from a beautiful rare tree found in the garden and symbolises personal growth by skill sharing and confidence building.
Cockington Country Park has received the prestigious Keep Britain Tidy, Green Flag Award, an accolade which it has retained 25 times since its launch, one of only 5 sites in the whole of the UK to do so. The Green Flag Award is given for high environmental standards, being beautifully maintained and having excellent visitor facilities.
Latest developments in the Walled Art Garden
The overall concept for the Walled Art Garden is being designed by a dedicated team including Marissa Wakefield - Centre Director Cockington Court, Torquay, Devon (TDA), Peter Heppa - South Devon College, Nick Perrett - Redbay Design Landscape Consultants and Stuart McMillan - Director of the Feijoa Project CIC .
The maintenance of the Walled Art Garden is carried out by two experienced gardeners employed by the Feijoa Project along with their weekly team of over 20 participants with learning disabilities.
The garden is to remain organic and vegetable producing but now with a new emphasis on being a creative space for people to enjoy and be inspired in. There are now special places for story telling, imaginative adventures and taking photos.
Visitors will be encouraged to linger, sit, eat, read and just enjoy the peace and tranquillity.
Benefits of the garden are that it offers a sense of wellbeing to both our participants of the Feijoa Project and our visitors.
The garden will showcase the work of local artists and craftsmen.
The storytelling area has a throne created using recycled palettes created by Palletopia, with bamboo and green hazel sticks donated by sculptor Henry Bruce.
TripAdvisor
BOOK NOW
Rose Garden - Cockington
What's Nearby
At the heart of Cockington Village lies Cockington Court, a manor house with roots in…

0.09 miles away

An English Riviera UNESCO Global Geopark Key Site. 

Cockington is a quintessentially…

0.11 miles away
Previous
Next