Royal Torbay Yacht Club
12 Beacon Terrace
,
Torquay
,
Devon
,
TQ1 2BH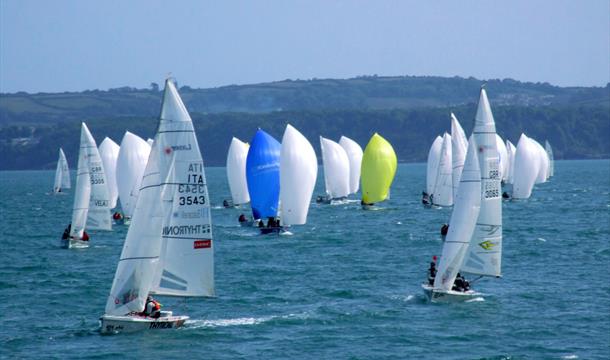 Book Tickets
Reviews
Events
About
Enquiry
Map & Directions
Opening Dates and Times
2022 - opening
(1 Jan 2022 - 31 Dec 2022)
* Usual Office Hours January - December Monday - Saturday 0900 - 1300 hours

Bar Opening Times Lunchtime- Mondays to Saturdays - 1200 - 1430 hours
Sundays - 1200 - 1600

Restaurant Opening Times Lunchtime - Mondays to Saturdays - 1200 - 1400 hour
Book Tickets
About
Royal Torbay Yacht Club

The Royal Torbay Yacht Club hosts many prestigious sailing championships including inter alia, the One Ton Cup and the Dragon World Championship and has managed to achieve a justified reputation (which it retains) as a leader in race management and organisation.

History of Royal Torbay Yacht Club

Since the Napoleonic Wars, leisure sailors have been competing in yacht races held in Torbay. However, the annual regatta had been running for 50 years, before a formal body was organised that would eventually take over the running of local maritime affairs. On 19th August 1863, twenty-three gentlemen, under the chairmanship of Sir Lawrence Palk, (Lord of the Manor) founded the Torbay and South Devon Club, initially for social rather than sailing purposes, then purchased premises on Beacon Hill (now the home of RTYC). The Torquay Yacht Club, with Sir Lawrence Palk as Commodore, was formed in 1875 and immediately obtained a warrant from Queen Victoria to become the Royal Torquay Yacht Club. This name was amended to the present-day Royal Torbay Yacht Club following a merger of the yacht club with the Torbay and South Devon Club in 1885.

Torbay Royal Yacht Club held its first regatta, distinct from Torbay Royal Regatta, 125 years ago in 1887 and also reaches another proud milestone in 2013 with a welcome message for members old and new in their special anniversary brochure: 'The RTYC, is not just a yacht club, it is a way of life for those who enjoy the sea and great company! And it continues to be so after 150 Years'

Agatha Christie

Agatha Christie's father was a member of the RTYC. In the early 1900s, the clubhouse overlooked, what was then a ladies-only beach at Beacon Cove. Once, when Agatha was swimming in the cove, she was saved from drowning by a boatman.

Awards
Regional and Miscellaneous

WTTC Safe Travels

2021
TripAdvisor
Facilities
Establishment Features
View Less
Royal Torbay Yacht Club
Map & Directions
Road Directions
Follow the A3022 signposted Torquay Seafront. Follow this road until you reach the Clock Tower on Torquay Harbourside. Turn right into Victoria Parade. The Torbay Royal Yacht Club is situated at the end of this road.
What's Nearby
Beacon Cove is a perfect haven away from the main beach of Torquay, close to Haldon Pier…

0.04 miles away

With almost 1,000 berths available, Torquay Harbour is a well-protected yacht haven with…

0.07 miles away
Previous
Next