The Escape Room
The Real Crime museum
,
23 Victoria Parade
,
Torquay Harbour
,
Torquay
,
Devon
,
TQ1 2BD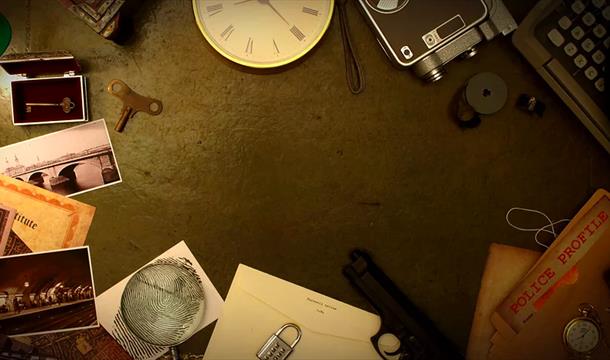 Book Tickets
Reviews
Events
About
Enquiry
Map & Directions
Opening Dates and Times
2022 Opening
(30 July 2022 - 31 Dec 2022)
About
Escape Rooms have arrived in Torquay!
On your next visit to The English Riviera be sure to visit the TORQUAY ESCAPE ROOM located on Torquay's Harbourside next to THE REAL CRIME MUSEUM. It's a perfect, entertaining attraction for families, groups and corporate team building. We are an, any weather attraction for making memories!
If you always fancied yourself as Indiana Jones or Harry Potter in the Triwizard Tournament, or perhaps you're a fan of The Crystal Maze or are a lover of the Agatha Christie Mysteries... Perhaps you loved the film, The National Treasure, when its just been discovered that there is a secret message hidden on the back of the Declaration of Independence! then the TORQUAY ESCAPE ROOM is for you!
In our first room, you're trapped in the Detective Office searching for clues to find the key to escape from the room, but time is running out.
You have 60 minutes to solve a series of clues, puzzles, riddles and crack the code to escape; if you want a hint, just press the intercom where an Escape Room team member will give you a hint to succeed in escaping.
You'll be immersed in an interactive and adrenaline fuelled mission where you and your team are the stars. You'll experience 'eureka!' moments, frustration, light bulb moments and an overwhelming feeling of exhilaration.
Our Detective Room is set up as a family friendly, authentic, Private Investigators office.
Before you begin your mission, you will be briefed by a member of the Escape Room staff with a set of rules ( like no breaking stuff, if it doesn't move it's not meant to, please ask for clues if you get stuck etc and as soon as your time is up you are requested to leave the room immediately) and you will be asked, as soon as you're ready, to enter the room- this is when the timer starts.
Basically, when the door closes behind you and your team, you are locked in. You need to work as a team, searching high and low, for things that may be clues, calling out what you find ( all the little things you come across that may seem irrelevant to you maybe exactly what one of your team members needs to make sense of a clue) and then your mission unfolds...
One clue will lead to another and another and so on.
Everyone loves playing games with family or friends and our Detective Room provides the fun, thrill and intellectual stimulation, with the panic of working against time. Be sure to join the popular craze that is sweeping the world and put it on your list of things to do when you are next in the Bay!
You can book at www.escaperoomtorquay.com Book your Escaping Session today... and finally... HAPPY ESCAPING!
TripAdvisor
The Escape Room
What's Nearby
The Real Crime Museum is a fascinating attraction based on the harbour in Torquay. If you…

0 miles away

UNDER NEW OWNERSHIP 

Torquay's Dinosaur World is an fun interactive indoor exhibition…

0.04 miles away
Previous
Next