Global Geopark - Babbacombe
Type:
Environmental Attraction
Bababcombe
,
Devon
,
TQ1 3LN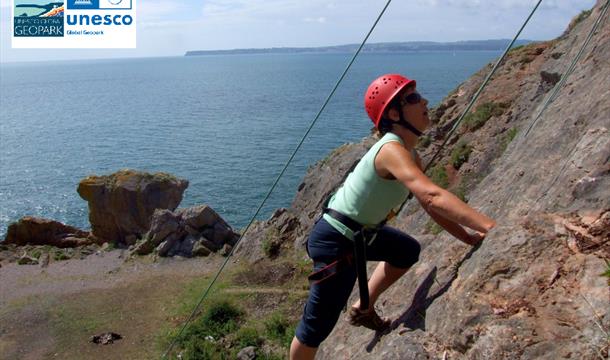 Book Tickets
Reviews
Events
About
Enquiry
Map & Directions
Book Tickets
About
The English Riviera, a designated UNESCO Global Geopark: One of Earth's extraordinary places.
Did you know that the English Riviera's breath-taking landscape has designated UNESCO Global Geopark status, one of only 7 in the entire UK and 140 in the world? A Geopark is an area of globally recognised, unique geological interest, designated by UNESCO.
There are loads of opportunities to explore the stunning scenery of the Geopark - kayaking, diving, coasteering, sea-fishing and more - plus walking this beautiful stretch of the South West Coast Path is a must. Local food is really important here too, and you'll find more of this at the Occombe Farm Cookery School. Check out the Geopark Discovery Packages for more ideas!

The key sites of the Geopark will offer you more of an insight into its history, formation and environment. To get down into the depths of the Geopark, pay a visit to Kents Cavern, Britain's "oldest home" and a key archaeological site where bones of sabre-toothed tiger and mammoth have been unearthed. A trip to the Napoleonic fort at Berry Head National Nature Reserve in Brixham will reveal the Geopark's fascinating man-made and natural heritage, and if you fancy discovering its marine environment, check out the Seashore Centre at Goodrington and spot the – adorable - native marine creatures. Of course, if all you're after is a stunning view, climb the illuminated staircase of Royal Terrace Gardens on Torquay's seafront and gaze out to sea!

A free Geopark leaflet is available from Visitor Information Centres; for more information, pick up a copy of the official guidebook and a brand new walks book from the VICs or online at www.amazon.co.uk.
TripAdvisor
Facilities
Event Facilities
View Less
Global Geopark - Babbacombe
What's Nearby
An asset to the English Riviera for over eighty years Babbacombe Theatre is renowned for…

0.12 miles away

The Award Winning Spa Room at the Cary Arms in Devon offers guests the chance for total…

0.15 miles away
Beautiful Babbacombe Downs has the highest cliff top promenade in England, and on a clear…

0.17 miles away

Built in 1926, the Babbacombe Cliff Railway has shuttled hundreds of thousands of holiday…

0.18 miles away

Babbacombe is everything that a great British seaside resort should be – with fabulous…

0.26 miles away

This is a great beach for all ages! paddling for the young and a variety of watersports…

0.36 miles away

Torquay United have represented the local community for over 120 years. Formed in 1899 by…

0.46 miles away

Merlin Cinemas have relocated to Union Street from Abbey Road
Merlin Cinemas recently…

1.1 miles away

If you're looking for a pleasant, idyllic spot for somewhere to relax then Watcombe is…

1.15 miles away
Previous
Next