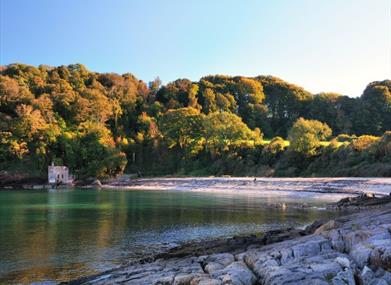 Opening Times
Elberry Cove
(1 Jan 2017 - 31 Dec 2017)
Address/Location
Contact
Close to Paignton is Elberry Cove, a small inlet with a small pebble beach. Far from the bustle of the main beaches, so you can relax without being disturbed by noisy crowds or amusement arcades. This is the designated beach for water skiing, so no swimming in the ski lane.

The beach can only be accessed on foot, so if you have the car with you, park at Broadsands and take a stroll along the coastal path. The scenery at Elberry Cove is beautiful; it's framed by wooded hillsides and the sea is crystal clear and safe to swim in. At one end of the beach you'll find the remains of Lord Churston's bathhouse, a romantic 18th century ruin.

Elberry Cove was one of Agatha Christie's favourite bathing spots. Her holiday home at Greenway is not far away, and the cove even features in one of her novels, The ABC Murders, as the setting of Sir Carmichael Clarke's untimely death. You'll find Elberry Cove on the Agatha Christie Literary Trail.

Type: Rocky with shingle

Access: Not easy with a long uneven path steps and shingle beach.
.

Dogs:
Dogs are welcome all year round.
Free advice from travellers on
English Riviera hotels
for a great holiday on the
English Riviera