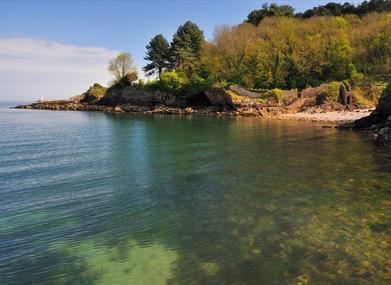 Opening Times
Churston Cove
(1 Jan 2017 - 31 Dec 2017)
Address/Location
Contact
Churston Cove is one of the many excellent beaches to be found on the English Riviera, South Devon's beautiful bay. A secluded cove accessed via a long, steep path, this is a real sanctuary of peace and calm. The beach is a mixture of sand and shingle, and is a safe place for the kids to paddle and play. Dogs are also allowed all year round, so you won't have to leave pooch at home! But what really steals the show is the stunning scenery. Hillsides thick with woodland slope down towards a small, clean beach with a crystal clear sea.

Type: Shingle with rocks and cliffs

Access: Difficult - Restricted access via very steep path which is uneven in places

Dogs:
Welcome all year round.
What's Nearby
Fishcombe Cove is ideal if you want to escape the crowds. Situated along the coast from Brixham,...

0.11 miles away

Not only does Battery Gardens boast one of the most panoramic views in the bay, it is also a...

0.2 miles away

The Brixham Battery Heritage Group was founded in 1999 by the late Ron Coleman, we are a group of...

0.26 miles away

Set at the Northfields Industrial Estate, in Brixham, Devon, we offer a spacious, light and clean...

0.6 miles away
Radiating a warmth of its own, Brixham nestles in the rugged cliffs at the southern end of the...

0.62 miles away

A boat trip is the perfect way to experience the English Riviera from one of its best vantage...

0.64 miles away

The Golden Hind at Brixham is a full sized replica of one of the most iconic ships from the age of...

0.66 miles away

Brixham Art and Craft Market is held every Saturday from Easter to the end of October, under the...

0.66 miles away

Housed in the old Brixham police station, Brixham Heritage Museum provides an intriguing place to...

0.67 miles away

Blackbeard's Trail is described as a lovely, moderate, circular walk of about 2.5 miles,...

0.67 miles away

Dartmouth Day Cruise - an exciting day adventure to the lovely historic Port of Dartmouth. Cruising...

0.69 miles away

Brixham Theatre now presents over fifty performances a year – community shows and hired in...

0.7 miles away

Brixham Harbour is located on the southern side of Tor Bay and boasts one of the largest fishing...

0.73 miles away

Elberry Cove is a romantic impressive shingle beach with beautiful cystal blue clear waters a...

0.95 miles away

Close to the mouth of Brixham harbour is Breakwater Beach, one of the cleanest beaches on the...

0.96 miles away

Protecting Brixham Harbour is the massive structure of Brixham Breakwater, stretching for half a...

0.98 miles away
Previous
Next
Free advice from travellers on
English Riviera hotels
for a great holiday on the
English Riviera