Meet Torquay's best known resident, Agatha Christie
Dame Agatha Christie is known throughout the world as the 'Queen of Crime' and considered a literary genius. Her books have sold more than two billion copies and have been translated into over 100 languages. She remains the unrivalled, most successful female playwright of all time, as well as a respected authority on travel, archaeology and pharmacology.
The English Riviera is immensely proud to be associated with its best-known resident and to have played a part in Agatha's formative years when the experiences, places and people that she encountered provided the inspiration for many of the fictional characters and plots that she created within her much-loved stories and plays.
Whether you are a first time visitor or are returning to the English Riviera, you may be surprised by just how many Torquay landmarks have an Agatha connection.
The Early Years
Agatha Mary Clarissa Miller was born at Ashfield, a large Victorian mansion in Torquay on 15th September 1890 and she was christened at All Saints Church. She spent an idyllic childhood at the family home with her upper-middle class American father, Frederick and English mother, Clara and elder siblings, Monty and Madge. Ashfield was demolished in the 1960's but today a blue plaque on Barton Road, Torquay marks the spot where the original building once stood.
Agatha enjoyed many hobbies including taking dance, piano and singing lessons and took part in amateur theatricals at Cockington Court with the Mallock family. She enjoyed roller-skating at her favourite spot at Princess Pier, surfing and swimming at Elberry Cove and Ladies Bathing Cove, now known as Beacon Cove, and played golf at Churston and Torquay Golf courses. Today, it's possible to view Beacon Cove from Living Coasts' terrace.
As a young child, Agatha enjoyed writing short stories, accessing her father's extensive library and taking inspiration from her mother, who was an excellent storyteller. Her father was a member of Torquay Natural History Society, later to become Torquay Museum and he supported William Pengelly's excavations at Kents Cavern. He was also a regular visitor to Royal Torbay Yacht Club and president of Torquay Cricket Club.
Agatha attended many social functions at The Imperial Hotel; The Athenaeum Rooms, once located at 43 Fleet Street; The Royal Theatre, now the home of the Central Cinema in Abbey Road and The Pavilion on the harbourside. The Pavilion, once a thriving art nouveau styled concert hall and theatre attracted celebrated artistes such as composer Sir Edward Elgar, pianist Rachmaninoff and ballerina Anna Pavlova. It was whilst attending a Wagner concert at The Pavilion in 1913 that Agatha accepted a proposal of marriage from her first husband, Archie Christie.
War-time efforts
During the first world war Agatha worked as a nursing auxiliary at Torquay Town Hall which was used as a Red Cross hospital. Later as a qualified nurse she worked at the Dispensary and this is where she gained her authoritative knowledge of poisons. During quiet moments she began to write her first detective story, 'The Mysterious Affairs at Styles', a death by poison mystery solved by the iconic character, Hercule Poirot. The novel was completed during a break at Moorlands Hotel, Haytor.
When Archie, a qualified aviator with the Royal Flying Corps came home on leave from France in 1914, the couple married on Christmas Eve and spent their honeymoon night at The Grand Hotel.
After the war, Agatha moved from Devon to set up home with Archie in a flat in London. It was a happy period for the married couple as the birth of their only child, Rosalind occured that year, and Agatha received news that 'The Mysterious Affair at Styles' was to be published plus a contract awarded to produce five further books.
Intrepid traveller and female explorer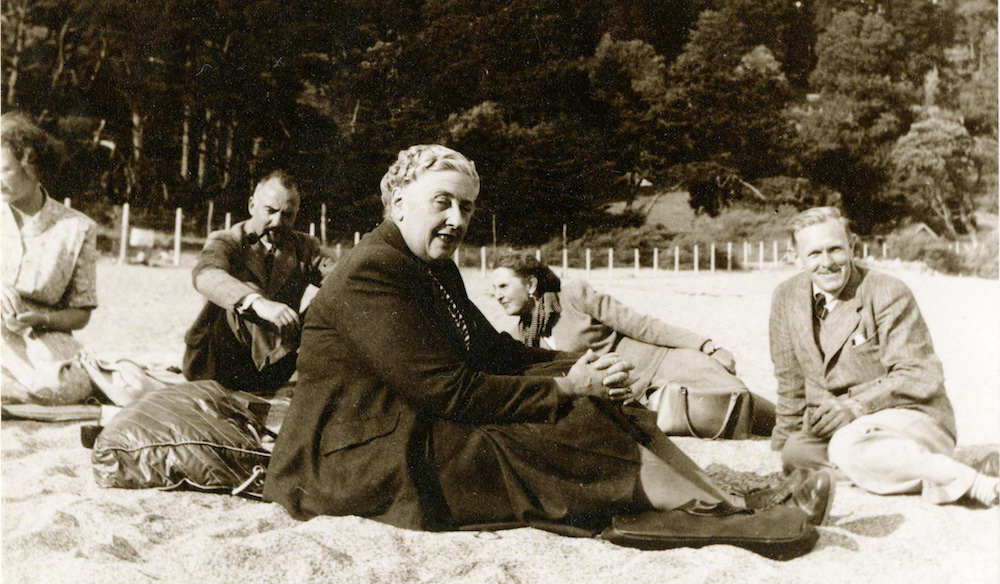 Overseas travel was a staple ingredient throughout Agatha's life, honing her extensive knowledge of the most exotic and cosmopolitan locations of the day, which were to become central to her storylines. As a young girl she spent time in France and Egypt, following her father's death, and after the first world war she travelled extensively with Archie throughout the British Empire taking in visits to South Africa, Australia, Honolulu and Canada.
In 1926, following the death of her beloved mother and aware that her marriage to Archie was in trouble, Agatha Christie disappeared, prompting a nationwide search. She was later located at Harrogate Spa Hotel.
When her divorce from Archie was granted in 1928, Agatha undertook an unaccompanied journey on the Orient Express. This was quite an adventurous undertaking for a middle class lady but Agatha was a seasoned traveller after all. During this trip she visited Baghdad and an archaeological site at Ur. This was to be a significant chapter in her life as it was during a return visit to the area that she met Max Mallowan, an archaeologist-in-training, who was to become her second husband. The Middle Eastern experiences and Max's line of work heavily influenced Agatha's writing and some of her most famous works were produced including Death on the Nile, Murder on the Orient Express, Murder in Mesopotamia, They Came to Baghdad and Appointment with Death.
Whilst the allure of international travel and family life took Agatha away from her beloved Torquay and South Devon, she returned often and in 1938 she purchased Greenway House, Galmpton, an idyllic secluded spot on the banks of the River Dart. This was to be her and Max's holiday retreat and during their visits, they often dined with Lord and Lady Churston at Churston Court. Agatha regularly attended the Church of St Mary the Virgin, Churston Ferrers and donated the royalties from her short story, Greenshaw's Folly to pay for a new stained-glass window for the church and it's still possible to visit the church and admire the window today.
Agatha experienced another world war and volunteered this time at the Dispensary at University College Hospital, London whilst her husband supported the war efforts in a linguistic role in Cairo, Egypt.
In the years that followed after the war ended, Agatha continued to write and worked on theatrical and radio productions including writing a radio play, Three Blind Mice to mark Queen Mary's 80th birthday celebrations. An adaptation of the play retitled The Mousetrap transferred to the stage and became the world's longest running play in London's West End theatre history.
In recognition of her remarkable contribution to the arts, her successful literary career and the far-reaching appeal of her work, she received the Commander of the British Empire (CBE) and Dame of the British Empire (DBE) honours.
She died peacefully at her country home in Wallingford, Oxfordshire on 12th January 1976. She remains the best-selling female crime writer and author of all time.
Agatha Christie biography
Agatha lived a long, eventful and successful life with lots of memorable milestones, here is a chronological list of events during her 85 years of life.
Timeline of events
1890 - Agatha Mary Clarissa Miller is born on 15th September

1895 - Agatha teaches herself to read, aged five

1901 - Death of her father, Frederick Alvah Miller

1906 - Attends a finishing school in Paris

1911 - Completes her first and unpublished novel, Snow Upon the Desert

1912 - Meets Archie Christie, her future husband

1914 - Serves as a nurse in the Red Cross Hospital, Torquay Town Hall

1914 - Marries Archie Christie

1916 - Serves as a Dispenser at the Red Cross Hospital, qualifying in 1917

1919 - Agatha's only child, Rosalind is born

1920 - Agatha's first novel, The Mysterious Affair at Styles featuring Hercule Poirot is published

1926 - Death of her mother, Clara Miller

1926 - Agatha's disappearance prompts a nationwide search. Later located at Harrogate Spa Hotel having possibly suffered concussion and amnesia

1928 - Divorce granted from Archie Christie

1930 - Marries archaeologist, Max Mallowan

1938 - Greenway House on the banks of the River Dart is bought for the sum of £6,000.

1939 - 'And Then There Were None', the biggest selling crime novel of all time, is published

1941 - Rosalind Christie, Agatha's daughter marries Hubert Prichard

1943 - Agatha's grandson, Mathew Prichard is born

1947 - The radio play Three Blind Mice is written, marking Queen Mary's 80th Birthday

1950 - Agatha begins writing her autobiography

1952 - The Mousetrap, the world's longest running play, opens in London

1956 - Agatha receives the Commander of the British Empire (CBE) honour

1957 - Agatha took on the role of president of the Detection Club, a society of British mystery writers until 1976.

1968 - Agatha's husband, Max receives a knighthood for his work in archaeology.

1971 - Agatha receives the Dame of the British Empire (DBE) honour

1975 - Fictional character Hercule Poirot's death occurs, having starred in over 80 novels and short stories

1976 - Agatha dies peacefully on 12th January and is buried in the churchyard of St Mary's, Cholsey, near Wallingford.

1977 - Agatha Christie, An Autobiography is published

1990 - A bronze statue of Agatha, marking the Agatha Christie Centenary Year is unveiled by her daughter, Rosalind at Cary Gardens, adjacent to The Pavilion, Torquay. See the Agatha Christie bust in Torquay

Agatha Christie books with Devon connections
Agatha's fondness for South Devon is evident by the many subtle depictions of places that appear in over 20 of her novels. The most avid Christie fans may have already recognised some of the following locations:
The Laurels at Hollowquay was a representation of her childhood home, Ashfield in Postern of Fate (1973)

Whilst Corbyn Head, Torquay appears as Baldy's Head

Princess Gardens, Torquay appears in The ABC Murders (1936) along with the village of Churston and Elberry Cove

The Imperial features in three novels. It is renamed as The Majestic in the fictional town of St Loo in Peril at End House (1932) and again in the town of Danemouth in The Body in the Library (1942). It appears as The Imperial Hotel in Sleeping Murder (1976)

Burgh Island, a 26 acre private island overlooking Bigbury On Sea and Bantham beaches with a 1930's Art Deco hotel appears as Soldier Island in And Then There Were None (1939)
It also appears as Smugglers' Island in Leathercombe Bay in Evil Under The Sun (1941)
Royal Castle Hotel, Dartmouth appears as the Royal George Hotel in the short story, The Regatta Mystery in The Problem at Pollensa Bay (1939)

Kent's Cavern is the inspiration for Hampsley Cavern in The Man in the Brown Suit (1924)

Agatha's holiday retreat, Greenway House (include image below) and the nearby village of Galmpton feature as Nasse House at Nassescombe in Dead Man's Folly (1956) whilst the fishing town of Brixham appears as Brixwell. Greenway appears again in Five Little Pigs (1943) as well as Towards Zero (1944) and as Sunny Point House in Ordeal by Innocence (1958)

Torquay is depicted as Cullenquay in Mrs McGinty's Dead (1952)

Petitor and Torquay Golf Course are the inspiration of the golf course and cliffs in the thriller, Why Didn't They Ask Evans? (1934) which also features a dedication from Agatha to Christopher Mallock of Cockington Court, Torquay
Find out more by following The Agatha Christie Literary Trail.
Agatha Christie's most popular novel
Did you know that Agatha Christie wrote an extensive collection of works? 66 mystery novels, 19 plays and 150 short stories to be precise. But do you know which is the most popular? Many may believe that it is Murder on the Orient Express (1934) but the best-selling mystery novel of all time is …
And Then There Were None (1939), the most adapted of her works. Ten strangers are lured to a secluded island (inspired by Burgh Island) off the coast of Devon and when a murder takes place, the tension starts to build as the strangers realise that the killer is among them and further murders follow…...
One of the biggest film adaptations starred Aidan Turner as Phillip Lombard, here he talks about the role.
Best known for her fictional crime stories and much-adored characters, Hercule Poirot and Miss Marple, Agatha also wrote nonfiction including 'Come, Tell Me How You Live' (1946) with her second husband, Max about their travels together. She also wrote under the name of Mary Westmacott, a pseudonym which enabled her to enjoy the freedom of writing anonymously and 6 romantic novels were published, described by her daughter, Rosalind as 'bitter-sweet stories about love'.
Agatha's best loved fictional characters
Agatha fans will know everything there is to know about Hercule Poirot. But for those who are less familiar, let's turn a few pages and find out more…
Poirot appeared in Agatha's first published novel, The Mysterious Affair at Styles in 1920.
By the time of his fictional death in 1975, he had appeared in over 90 novels and short stories.
He is the only fictional character to have received an obituary on the front page of The New York Times.
Hercule's nationality may have been inspired by the many Belgian refugees that Agatha observed who were staying in Torquay during the first world war.
Adored worldwide, his easily recognisable style is described in Murder on the Orient Express as 'a little man with enormous moustaches'. Standing diminutively at 5'4" with an egg-shaped head, he is always impeccably dressed, holding his iconic walking stick.
The self-proclaimed 'greatest detective in the world' never met his female counterpart, Miss Jane Marple, who was loosely based on Agatha's grandmother and appeared as an amateur detective in 12 novels and 20 short stories.
On screen Poirot has been portrayed by a vast array of exemplary actors including Peter Ustinov, David Suchet, Albert Finney, Charles Laughton and Kenneth Branagh amongst others.
In 2018 John Malkovich was revealed as the latest actor to play Poirot in an adaptation of The ABC Murders for BBC One and Amazon Prime, ensuring that Agatha's legacy continues.
Agatha Christie's - Murder on the Orient Express as a new feature film
The strength and longevity of the work that Agatha Christie completed is still evident over 80 years on from writing. This was highlighted only last year, when top Hollywood producer, Ridley Scott adapted one of her most famous novels, Murder on the Orient Express into a blockbuster movie.
The film, released as a mystery drama was directed by Kenneth Branagh and featured an all star lineup including some of Hollywood's biggest names. Branagh himself stars as leading character, Hercule Poirot with supporting roles provided by Penélope Cruz, Willem Dafoe, Judi Dench, Johnny Depp, Derek Jacobi, Michelle Pfeiffer, and Daisy Ridley.
New adaptations of Agatha's stories continue to be produced featuring the contemporary figures of today, taking on the much-loved character roles of Hercule Poirot and Miss Marple and appealing to the next generation of avid readers and devoted television and film fans.
The complete list of Agatha's books and productions can be found on the official Agatha Christie website.
This image of Ordel by Innocence was supplied by © Agatha Christie Limited. This adaptation by Sarah Phelps which aired on BBC One over Easter, and will air on Amazon Prime in the US on 10th August. Left to right is Luke Treadaway, Anna Chancellor, Bill Nighy and Morven Christie.
Experience Agatha Christie on the English Riviera
Considering the history and strong affinity that Agatha Christie has with Torquay and the English Riviera, it is no surprise that there is lots to do in the area. Agatha fans travel from all over the world to visit her birthplace and to learn more about the rich heritage and works of our most celebrated resident.
With plenty of accommodation on offer, to suit all budgets and requirements, why not choose Torquay, Paignton or Brixham as your base and surround yourself with the full Agatha Christie experience.
Book accommodation between Paignton and Brixham
See our Top 10 Agatha Christie things to do for more!
With thanks to Torquay Museum for granting permission to access their resources to support the development of this blog. If you would like to learn more about Agatha Christie then please visit the official website.
Related
0 Comments