RTYC Offshore Week
RTYC
,
Beacon Terrace
,
Torquay
,
Devon
,
TQ1 2BH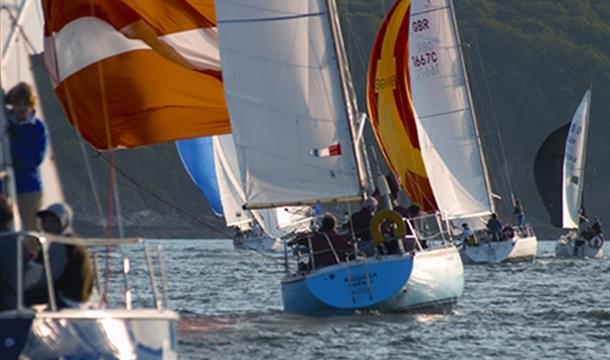 Event Dates
Book Tickets
Accommodation
About
Awards
Reviews
Contact
What's Nearby
Opening Dates and Times
RTYC Offshore Week
(1 July 2022 - 9 July 2022)
Book Tickets
About
The Offshore Week is a flotilla style race week combining racing, cruising and social activities. The itinerary takes into account yachts and sailors of wide ranging ages and abilities.
It has grown over 20 years to become a highly successful, enjoyable and well supported event. Typically attracting 20 yachts or more with combined crew over a hundred. (now limited to 25 Yachts)
The Royal Torbay Yacht Club links up with, the South Devon Combined Yacht Clubs and attract yachts from Plymouth, Salcombe, Dartmouth, the Exe Estuary, Teignmouth and Torbay. Racing competitively in offshore mode, bfully equipped and all living aboard and experiencing some of the wildly differing tidal and coastal regimes of the Channel Islands, North Brittany and Normandy.
Although the majority take the racing very seriously (what sailor doesn't!!). It's not all about racing; many family crewed boats attend for whom the cruising
destinations are the draw. Social activities take place most evenings and include, elaborate fancy dress nights, karaoke, quizzes, treasure hunts, sports and not least of all the opportunity to discuss the days sailing over a beer with friends new and old.
The region sailed is challenging. The value of sailing as a fleet provides some reassurance especially to those who have not crossed the Channel before who are able to benefit from the company and guidance of veterans.
Yachts can be IRC or Non IRC rated. From 25 to 45 feet, maximum draft 2.5m the racing requires all yachts to be equipped and qualify for ISAF Special Regulation Category 3 with life raft. However this is all about safety and we should all be sailing to this safety level whenever we cross the Channel.
In addition to our traditional fist stop St Peter Port we hope to include visits to St Hellier, Granville, Carteret and Alderney.
.
TripAdvisor
RTYC Offshore Week
What's Nearby
With almost 1,000 berths available, Torquay Harbour is a well-protected yacht haven with…

0.06 miles away

Torquay Marina is in the north-east corner of Torbay and sheltered from the prevailing…

0.1 miles away
Previous
Next