Cockington Village
Cockington
,
Torquay
,
Devon
,
TQ2 6XA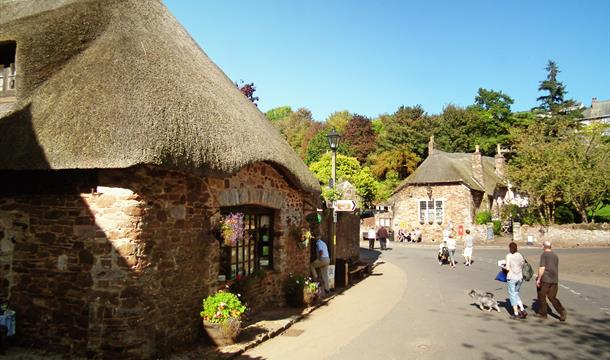 Book Tickets
Reviews
Events
About
Enquiry
Map & Directions
About
Many villages lay claim to being 'picturesque', but the village of Cockington is the real deal. Take a walk back in time along Cockington's narrow lanes, lined with thatched houses with their colour washed walls of stone and cobb, You'll experience a quiet charm that is a quintessentially English with its manor house, cricket ground, thatched pub, cream teas and a place to stay.

Everything about Cockington oozes history with many of the cottages dating back to the 16th Century and some, like the old Forge, mentioned in the Doomsday Book.

At the heart of the now internationally famous village you will find plenty of parking but it's only a short walk from the seafront at Livermead or there's a number 62 bus service from Torquay harbour.

Once there you will be free to discover this charming village and surrounding Cockington Country Park with its hundreds of acres of gorgeous trails and rural vistas perhaps taking lunch at the Lutyens designed pub or a cream tea at a choice of Tea Gardens. There are numerous leisurely strolls around the village taking in the shops selling gifts and mementoes of your visit. You can discover the old stocks, an abandoned water mill, the Alms Houses for the former estate, mediaeval carp lakes, water meadows and an ancient gamekeeper's cottage nestling in the woods. Walk a little further and you come across the Manor House, Cockington Court, a hub for contemporary creative crafts and arts.
Cockington Country Park has received the prestigious Keep Britain Tidy, Green Flag Award, an accolade which it has retained 25 times since its launch, one of only 5 sites in the whole of the UK to do so. The Green Flag Award is given for high environmental standards, being beautifully maintained and having excellent visitor facilities.
Facilities
Parking & Transport
Car Parks
Parking for disabled visitors
Towns & Villages
Church
Public toilets
Village shop
View Less
BOOK NOW
Map & Directions
Road Directions
Follow the seafront road until you reach the Cockington turning going inland. Go straight across at the mini-roundabout and continue into the village.
What's Nearby
Behind the Manor House within Cockington Country Park, you will find the peaceful Tudor…

0.07 miles away

An English Riviera UNESCO Global Geopark Key Site. 

Cockington is a quintessentially…

0.06 miles away
Manscombe Woods are the woodlands next to Cockington Country Park. Begin your walk at the…

0.19 miles away

OurGlass produce an innovative range of studio glass using traditional glassblowing…

0.26 miles away

Scadson Woods is a picturesque woodland situated between Occombe and Cockington. It is…

0.62 miles away

Relax, unwind or keep fit at The Grand Hotel. Our Leisure Club has something to please…

0.78 miles away

Don't miss the Italian Gardens, which form part of Abbey Park and Meadows. Here you'll…

0.8 miles away

Livermead Beach - Good access for water sports. Swimming not allowed in the water ski…

0.81 miles away

Drift back into the style and opulence of the Jazz Age as you retrace the steps of the…

0.82 miles away

An English Riviera UNESCO Global Geopark Key Site. 
Come and enjoy a visit exploring…

0.85 miles away

Do not touch! is the warning for all visitors to the Potent Plants Garden at Torre Abbey.…

0.85 miles away

LIFESTYLE HEALTH & FITNESS SUITE One Of Torquay's Longest Standing Gyms With Experienced…

0.92 miles away

This delectable beach is part of the English Riviera and it lives up to its name with its…

0.98 miles away
Previous
Next
Book Tickets