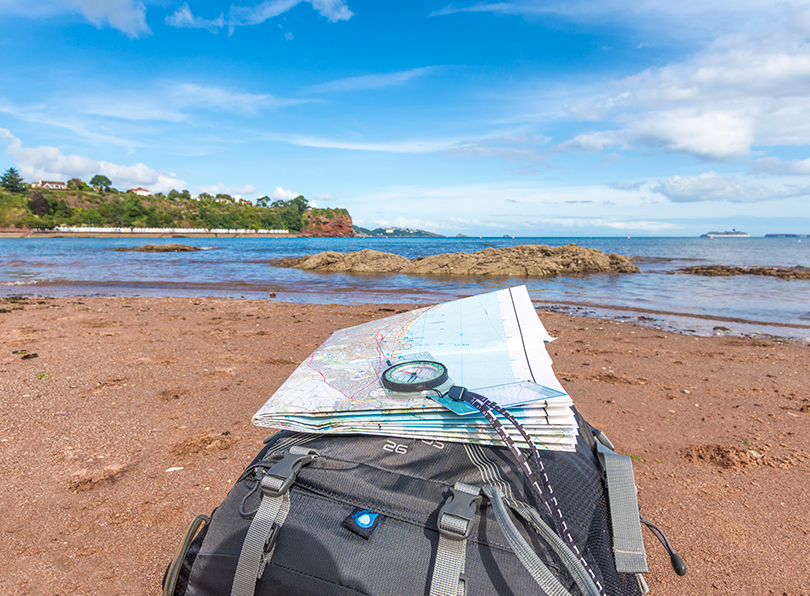 As the nights draw in and the summer crowds head home, the English Riviera takes on a wild new beauty. The sea air gets fresher, the waves get bigger and with less humans around, wildlife comes out to play.
Walking on England's Seafood Coast during Autumn and Winter is a fantastic way to take in the red-carpeted woodlands and an invigorating sea breeze. We've put together our favourite Autumn and Winter walks with details about the difficulty, terrain and key landmarks so you know exactly what to expect as you walk the English Riviera.
Torquay
Cockington Country Park
Difficulty: easy

Terrain: This walk consists of clear tarmacked pathways, some dirt paths and some minor slopes. It is a great place for dogs and young children.
Why we like this walk in Autumn and Winter: During Autumn, the Country Park forms a carpet of red leaves sprinkled with acorns and conkers, creating the quintessential English autumnal feel.
Begin your walk at the idyllic Cockington village with traditional thatched roofs. As you head into Cockington Country Park, you can wander through the large, manicured gardens past the 16th century manor house, stroll around the three lakes surrounded by tropical plants or head into Manscombe Woods to get back to nature.
See Torbay Coast and Countryside Trust's map for a printable map with five different walking routes to take with you on your walk.
Beacon Cove to Corbyn Head
Difficulty: easy
Terrain: This seafront walk features tarmacked paths, some minor slopes and next to some busy roads with plenty of places to stop for refreshments. The walk takes you through the heart of Torquay featuring several favourite spots of Agatha Christie.
Why we like this walk in Autumn and Winter: This walk is perfect for cloudy and wet weather days as there are lots of eateries and shops to pop into should the heavens open!
Begin at the secluded Beacon Cove, a favourite swimming spot of Agatha Christie, and walk towards Torquay Harbour. Cross the millennium bridge and stick to the coastline as you head round to Torquay Marina. Here, you'll reach Princess Gardens with a palm tree promenade and ornate water fountain. The Princess Gardens feature in one of Agatha Christie's most popular mysteries, 'The ABC Murders' (1936).
Follow the seafront round to Princess Pier. Take a stroll up the Pier to walk in the footsteps of Agatha Christie as this was her favourite place to roller skate with her friends. Continue along the seafront, and if you're feeling fit, why not walk up Rock Walk, also known as Royal Terrace Gardens for a fabulous viewpoint over the English Riviera?
Back to the seafront and here you have a choice of walking across the large sandy beach Torre Abbey Sands, or cross the road and visit the Italian Gardens. As you continue around the coastline, you will finish at Corbyn Head, a quiet headland that offers fantastic views over the English Riviera.
Paignton
Paignton Habour to Preston Sands
Difficulty: easy

Terrain: Easily accessible with wide, smooth tarmac paths throughout and no gradients.
Why we like this walk in Autumn and Winter: No matter the weather, this is an easy and enjoyable walk with smooth paths and plenty of eateries to nip into. In Autumn and Winter, the invigorating sea breeze flows off the coast, making you feel alive.
This short walk begins at the quaint-looking Paignton Harbour. Follow the path towards Paignton Sands, a long sandy beach with a promenade. On your left you will see the Geopark Play Centre, perfect for entertaining the little ones. When the tide is out, you are able to walk between Paignton Sands and Preston Sands on the beach itself, however when the tide is in, it is a short walk around the Redcliffe Hotel to join Preston Sands on the other side.
Broadsands to Churston Cove
Difficulty: hard
Terrain: Although this walk begins with a flat tarmacked walk near Broadsands Beach, it turns into rocky coast paths through woodlands with some steep inclines.
Why we like this walk in Autumn and Winter: As the summer crowds disappear from the beaches, this area becomes wild again. With a fresh sea breeze rolling off the coast, and an array of views from coast to woodlands to countryside, this is a fantastic walk.
Begin at Broadsands Beach, Paignton and take in the atmospheric sight of the pastel coloured beach huts. Follow the coast path south easterly, over the large open green with sea views and towards the sheltered shingle beach at Elberry Cove. Onwards through Elberry, Marridge Woods and the Grove Woods, where the woodland area is extensive and includes ruined limekilns and some forestry tracks. You'll finish your walk with stunning views overlooking Churston Cove in Brixham.
Brixham
Battery Gardens to Brixham Harbour
Difficulty: moderate.
Terrain: This is a steep walk from the top of the hill down towards the sea. There are concrete paths the whole way round with numerous stairs.
Why we like this walk in Autumn and Winter: With footpaths throughout the park, it is a great place to walk in all seasons. In January and February, this area is a favourite spot for the Brixham seals.
Start your walk at the top of the gardens on Northfields Lane and follow the network of paths to wander down towards Fishcombe Cove. Continue following the paths to the east to open out onto a large seafront green with stunning sea views. Follow the footpath through to a tree lined track which runs alongside the cliff edge to a set of stairs, and onto a seafront promenade. In Autumn and Winter, this is a fantastic place to watch the seals play. In fact, in February, you can hardly walk along here without seeing a seal or two! The path will then take you alongside the bustling Brixham Fish Market and finish in Brixham Harbour where you can enjoy some of the freshest seafood in the heart England's Seafood Coast.
Berry Head to Sharkham
Difficulty: moderate

Terrain: This is a coast path so can be a little uneven with some stiles and some inclines.
Why we like this walk in Autumn and Winter: with the fresh sea breeze and wide open landscapes, this walk feels particularly wild.
Explore Berry Head, and then walk towards the entrance of the South Fort. Whilst you can explore the South Fort, this walk begins to the right of the entrance. Follow the path around the fort, with the disused moat to your left and towards a tranquil headland. From here, you can easily follow the path to Sharkham Point.
On your way, you will pass several stiles and enjoy some spectacular sea views. Early autumn walkers will enjoy patches of the bright yellow Goldilocks Aster, which is found at only one other site in the UK, and be able to pick blackberries and sloe berries along the way.
There's plenty of walks around Sharkham, and St Mary's Bay. Once you've explored this tranquil headland, the return journey beckons!
This campaign is funded by the Welcome Back Fund. The Welcome Back Fund has received funding from the England European Regional Development Fund as part of the European Structural and Investment Funds Growth Programme 2014-2020.

Related
0 Comments