Seabirds and Seafood Feast at Guardhouse Cafe and Berry Head
Type:
England's Seafood FEAST
The Guardhouse Cafe
,
Berry Head Nature Reserve
,
Brixham
,
Devon
,
TQ5 9AW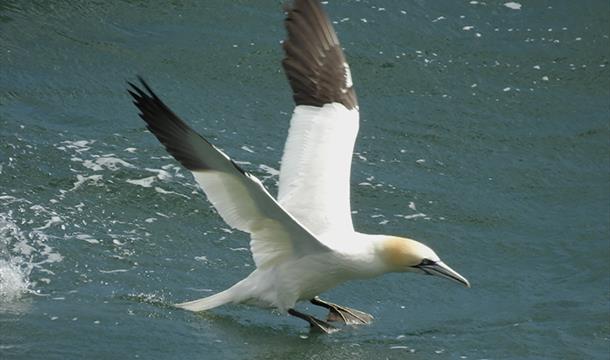 Event Dates
Book Tickets
Accommodation
About
Awards
Reviews
Contact
What's Nearby
Opening Dates and Times
Seabirds and Seafood Feast at Guardhouse Cafe and Berry Head
(4 Oct 2022)
Book Tickets
About
Seabirds and Seafood Feast at Guardhouse Cafe and Berry Head, Brixham
Date: Tuesday 4th October 2022
Times: Start 8am prompt until 10.45am approx.
Breakfast served at 10am
Other: Only 16 places available for this exclusive event
Cost: £25 including guided walk, cooked seafood breakfast ordered on the day from England's Seafood Feast special menu and a drink at the Guardhouse café
How to book: Directly with your guide Mike Langman by emailing mikelangman@blueyonder.co.uk
What to bring: Binoculars, clothing to suit the weather – Berry Head can be surprisingly cold early in the mornings. Optional notepad and paper
A special event in conjunction with the @guardhousecafé and England's Seafood Feast.
Enjoy a guided walk by Mike Langman around Berry Head followed by a seafood breakfast from England's Seafood Coast at the Guardhouse Café.
By early October the first of the returning winter flock of Guillemots will be back on the cliffs after spending the summer out at sea. Torbay and Lyme Bay can be alive with be seabirds at this time of year - Kittiwakes, Skuas and Shearwaters are some of the species we'll be looking for. There's a good chance of seeing Dolphins, and Porpoises and we may even be lucky enough to see the splashes of huge Atlantic Bluefin Tuna further out to sea.
October is the most exciting month for passing land migrants and can include rare waifs and strays, often tucked into the scrub around the headland or just passing overhead. The various calls, diagnostic behaviour or plumage will be a feature of the mornings walk.
At 10am we'll head to the Guardhouse café for a fantastic choice seafood breakfast ordered on the day from a selection of England's Seafood Feast specials. Dietary requirements on request.
NOTE: Meet beside the picnic benches beside Berry Head National Nature Reserve car park – payment on exit approx. £6 – or free for Torbay Coast and Countryside Trust @countryside-trust members with passes.
MORE ON MIKE: With over 40 years' experience as a birdwatcher Mike's knowledge of birds around Torbay is unparalleled. He leads walks for Naturetrek, Torbay Coast and Countryside Trust & Sharpham Trust. Mike is also an artist and illustrator. https://mikelangman.co.uk/
AWARD WINNING GUARDHOUSE CAFE:
The Berry Head fort was built at the very start of the 19th century, to protect a battery of guns on the end of the headland.
The guardhouse, completed in 1802, was used by the troops defending the fortress. Inside the café you can still see part of the tunnel system which was built inside the fort all those years ago.
There has been a tea room in the Guardhouse for over 100 years. Ladies in bonnets and crinolines used to visit with their parasols. Fashions might have changed but a cafe remains. We still serve cream teas and ice cream but have extended the menu somewhat. In 2010 an extension was built by the Torbay Coast and Countryside Trust, which includes large windows looking out to sea and underfloor heating. The light and airy room can sit 40 guests inside, and 64 on wooden tables outside in warm weather.
TripAdvisor
Seabirds and Seafood Feast at Guardhouse Cafe and Berry Head
Map & Directions
Road Directions
The closest car park is the Berry Head car park, TQ5 9AP. Please remember to pay for parking.
What's Nearby
You may be surprised to know there are woodlands on this well-known headland - almost 20…

0.18 miles away

Berry Head National Nature Reserve guards the southern half of Tor Bay. One of the main…

0.18 miles away
Shoalstone Pool is a 53 metre sea water swimming Pool situated in a stunning position on…

0.5 miles away

Protecting Brixham Harbour is the massive structure of Brixham Breakwater, stretching for…

0.64 miles away

Close to the mouth of Brixham harbour is Breakwater Beach, one of the cleanest beaches on…

0.65 miles away

Brixham Marina is in the heart of Brixham, a picturesque Devon town in the wider area of…

0.82 miles away

Brixham Harbour is located on the southern side of Tor Bay and boasts one of the largest…

0.92 miles away

St Mary's Bay is a delightful secluded sandy beach with interesting rock formations and…

1.06 miles away

Dartmouth Day Cruise - an exciting day adventure to the lovely historic Port of Dartmouth…

1.07 miles away

Brixham Art and Craft Market is held every Saturday from Easter to the end of October,…

1.08 miles away

The Golden Hind at Brixham, Devon is a full sized replica of one of the most iconic ships…

1.08 miles away

A boat trip is the perfect way to experience the English Riviera from one of its best…

1.09 miles away

Greenway Ferry & Pleasure Cruises offer a wide range of family trips - Visit Agatha…

1.11 miles away

Radiating a warmth of its own, Brixham nestles in the rugged cliffs at the southern end…

1.12 miles away
Previous
Next