Youngs Park
Goodrington
,
Paignton
,
Devon
,
TQ4 6LP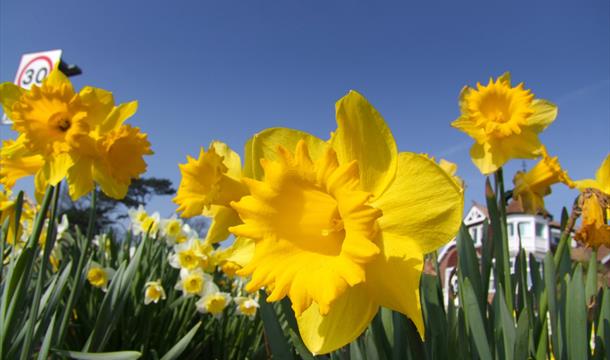 Book Tickets
Reviews
Events
About
Enquiry
Map & Directions
About
Goodrington's Youngs Park is a natural habitat for swans, geese and wild birds and is perfect for family picnics with children of all ages plus the family dog. Enjoy the Boating Lake (where model boat enthusiasts are often launching their treasures), have a go at crazy golf and enjoy some delightful walks in the parkland and up into the terraced Rock Walk Gardens, which are lit up at dusk.
In the Park there is a lone grave which bemuses curious visitors. 'The Major's Grave' has a granite headstone with a simple inscription. Goodrington Park was consecrated ground - a significant fact which helps to dismiss the theory that this is a grave of a suicide victim. However, 300 French sailors are reputedly buried beneath the park. A convent of Roman Catholic nuns cared for French prisoners of war. The Major was supposed killed in action but because he was English and a Major, he had the privilege of a head-stone and a marked grave. During the Napoleonic wars there was a hospital in Goodrington Park. It later became a private house, a catholic nunnery, and later a rather drab looking Hotel. It is now a friendly family Pub frequented by locals and visitors alike. However, casting an eye over the doorways and along the walls, will reveal its history as a hospital. Each area and room is still listed as a hospital ward.
In 1931, 80,000 tons of sandstone had to be moved in an attempt to prevent coastal erosion. The zigzag paths which weave across the headland looked raw and stark so Herbert Whitley kindly provided many subtropical plants, shrubs and trees to heal the scars and create some lovely surroundings.
TripAdvisor
Youngs Park
What's Nearby
If you enjoy a leisurely activity then why not take to the water for a relaxing cruise…

0.1 miles away
A beautiful old style 18 hole crazy golf course set in a picturesque small leisure park…

0.31 miles away

Clennon Lakes is a nature reserve consisting of manmade lakes created by the council in…

0.45 miles away

Experience the adventure of Pirates Bay Adventure Golf

A landscaped, floodlit, 18 hole…

0.46 miles away

Oyster Cove is an attractive beach which is very popular with local people. The beach is…

0.48 miles away

For over 60 years the Lane family and their crew have operated pleasure and fishing boats…

0.51 miles away

Great free attraction on Paignton seafront. An English Riviera UNESCO Global Geopark Key…

0.51 miles away

Famous for its long, sandy beaches, paddler-friendly waters and a colourful, bustling…

0.51 miles away

A warm welcome awaits you at Dartmouth Steam Railway & River Boats. We provide steam…

0.52 miles away
Previous
Next