Brixham Yacht Club
Overgang Road
,
Brixham
,
Devon
,
TQ5 8AR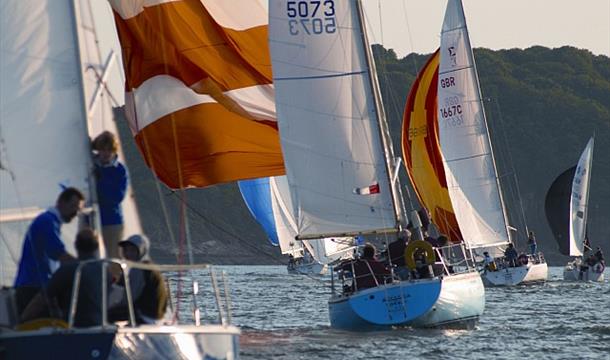 Book Tickets
Reviews
Events
About
Enquiry
Map & Directions
Opening Dates and Times
Openings 2022
(1 Jan 2022 - 31 Dec 2022)
About
Founded in 1937, the Brixham Yacht Club is recognised as one of the premier clubs on the south coast of England, as it continues to grow in both membership and stature.

The clubroom, formerly a sail-loft, together with the Jubilee Room Restaurant, provide panoramic views of the busy, but quaint, working harbour of Brixham and the beautiful waters and coastlines of Torbay and Lyme Bay.

Being adjacent to the harbour, The Brixham Yacht Club is accessible at all times and provides launching facilities at all states of the tide. The Club offers an excellent venue for social and competitive sailing and continues to host Open Weekend, National, European and World Championship events.
BYC Training Program - Brixham Yacht Club offers year round training including, shore based and water based courses from beginner to instructor level.
Full on Yacht Racing! - We run Yacht racing series throughout the year – even in the Winter!
IRC and Non-IRC fleets compete on Summer Thursdays, with Non-IRC fleets on Sunday Mornings all year round.
Please go to our website to keep up to date on our sailing events and to make sure our events are going ahead.
TripAdvisor
Brixham Yacht Club
Map & Directions
Road Directions
Drive into Brixham and towards the harbour. At the Old Market House junction, go straight across. Follow the road up the hill past the Fish Market, and the yacht club is on the right hand side.
What's Nearby
A boat trip is the perfect way to experience the English Riviera from one of its best…

0.02 miles away

Brixham Art and Craft Market is held every Saturday from Easter to the end of October,…

0.03 miles away
Radiating a warmth of its own, Brixham nestles in the rugged cliffs at the southern end…

0.05 miles away

Greenway Ferry & Pleasure Cruises offer a wide range of family trips - Visit Agatha…

0.06 miles away

Dartmouth Day Cruise - an exciting day adventure to the lovely historic Port of Dartmouth…

0.06 miles away

Brixham Harbour is located on the southern side of Tor Bay and boasts one of the largest…

0.17 miles away

Brixham Marina is in the heart of Brixham, a picturesque Devon town in the wider area of…

0.25 miles away

Brixham Theatre now presents a number of shows, including community shows and hired in…

0.27 miles away

An English Riviera UNESCO Global Geopark Key Site. Housed in the old Brixham police…

0.31 miles away

The Brixham Battery Heritage Group was founded in 1999 by the late Ron Coleman, we are a…

0.42 miles away

Protecting Brixham Harbour is the massive structure of Brixham Breakwater, stretching for…

0.45 miles away

Not only does Battery Gardens boast one of the most panoramic views in the bay, it is…

0.48 miles away

Close to the mouth of Brixham harbour is Breakwater Beach, one of the cleanest beaches on…

0.51 miles away
Previous
Next