The English Rivera's enviable mild climate is perfect for spending time outdoors. Many of the award-winning accommodation providers in this top UK seaside resort offer excellent outdoor facilities so that you can soak up the Mediterranean-style atmosphere and really feel on holiday.
Whether you prefer to dip your toe in or dive right in, you'll find plenty to choose. Take a look at 5 Torquay hotels and B&Bs with fabulous outdoor facilities.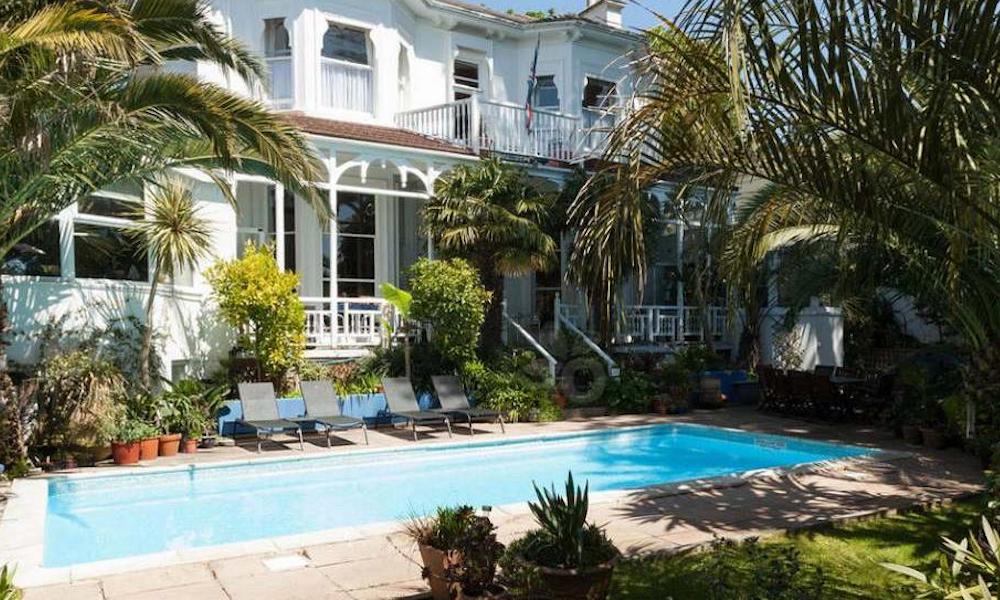 TripAdvisor Certificate of Excellence, Travellers' Choice award 2019
The Cary Court is set within elegant, tranquil surroundings and has a delightful veranda and sub-tropical south facing garden filled with exotic specimens, palm trees, banana plants, fragrant ginger lilies and orange bushes. The Cary Court is a grand, period 'Plantation' style house, built in the mid-19th Century and is tastefully decorated throughout with antique and period pieces, creating a relaxing and elegant atmosphere.
Adjacent to the Cary Court is The White House, self-catering holiday accommodation for up to four staying guests who can also access the outdoor facilities. There's a secluded heated, outdoor swimming pool available for guests to enjoy, which is open from 10.30 am until 7.30 pm each day until the end of September.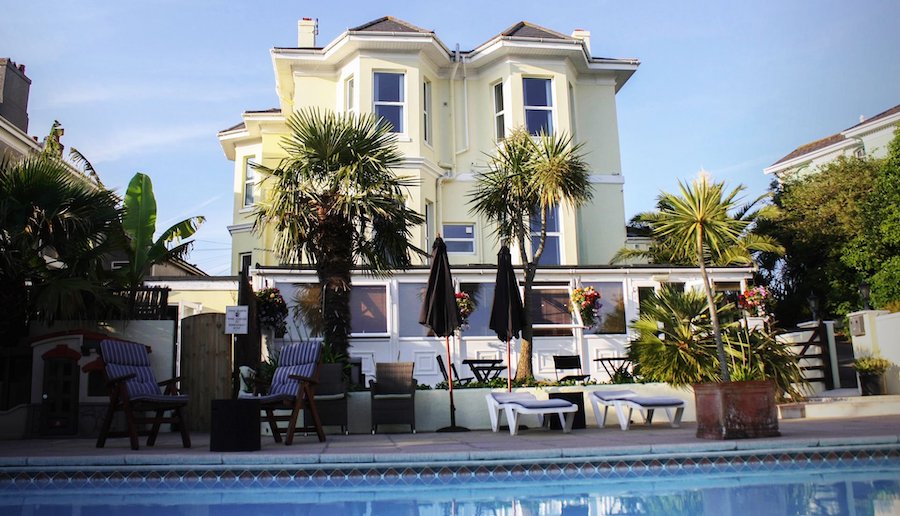 TripAdvisor Certificate of Excellence 2019
The Cimon, was once a nunnery and is now a delightful guesthouse set within an 1860's detached Victorian Villa with lots of character and original period features. There's a 30ft heated outdoor swimming pool and a large patio garden, overlooked by the hotel's conservatory, which provides some sanctuary and space to relax and unwind.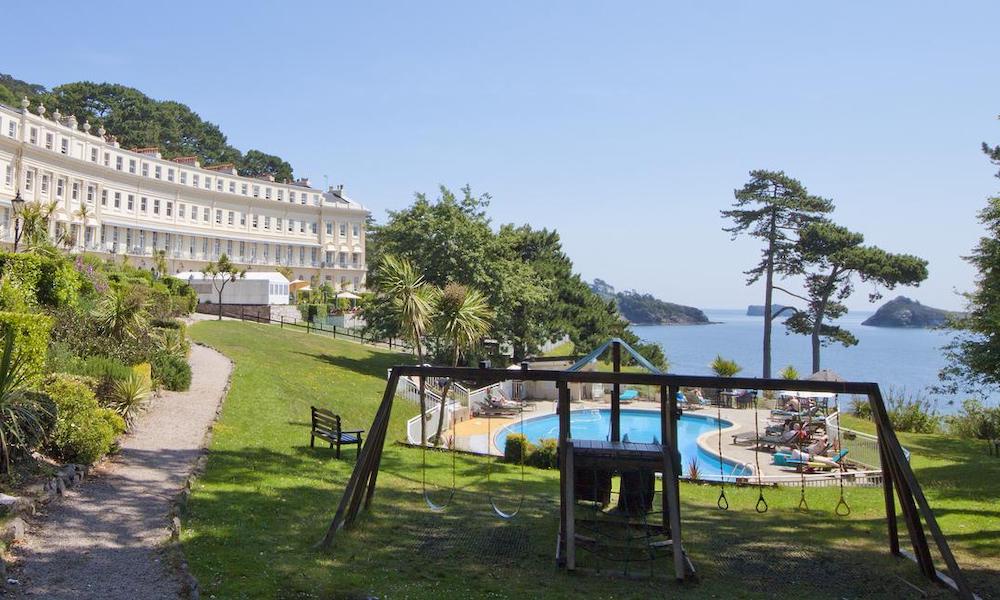 Known as 'The Country House Hotel by the Sea', The Osborne is the centrepiece of an elegant Regency crescent set in 5 acres of grounds. This luxurious four-star boutique hotel is the perfect holiday getaway and less than a minute's walk to the Blue Flag & Seaside Award winner, Meadfoot Beach.
The heated outdoor pool is located in a secluded, sunny position at the front of the hotel and surrounded by beautiful landscaped gardens and lush woodlands. From the pool there are broad sweeping views of the sea and towards Thatcher's Rock, a small uninhabited island and iconic landmark on the English Riviera.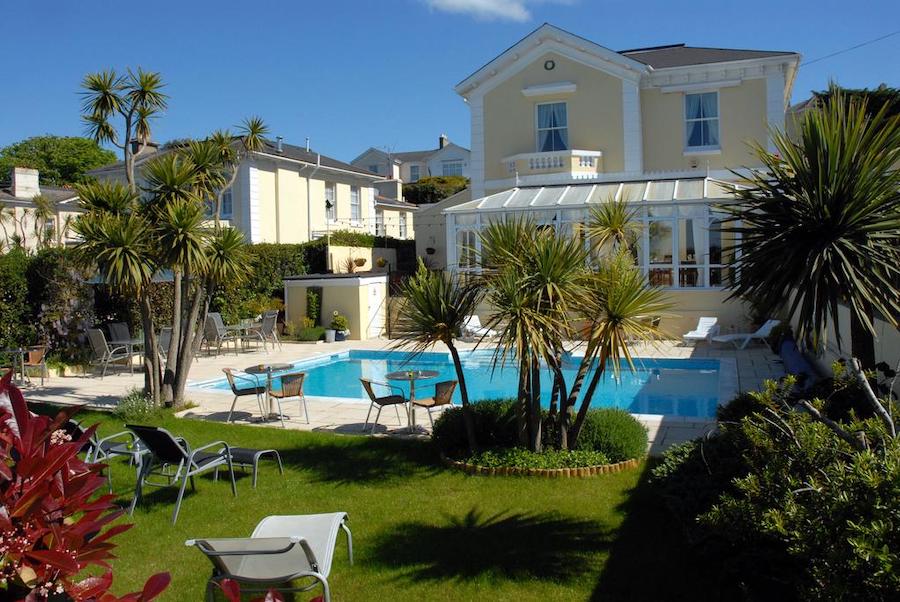 TripAdvisor Certificate of Excellence 2019
Riviera Lodge is located in a pleasant, tree-lined road, within a 2-minute walk of Torquay's popular seafront and abundance of lively bars, restaurants and cafes. This beautiful Victorian building first opened its doors in the 1930's and it's been welcoming business and seasonal visitors ever since.
The heated outdoor pool is in a secluded, walled garden and it's an ideal spot for swimming or splashing about. This charming adult only quality accommodation also has a hot tub, a pool terrace, colonial-style indoor bar and lounge and a bright conservatory area.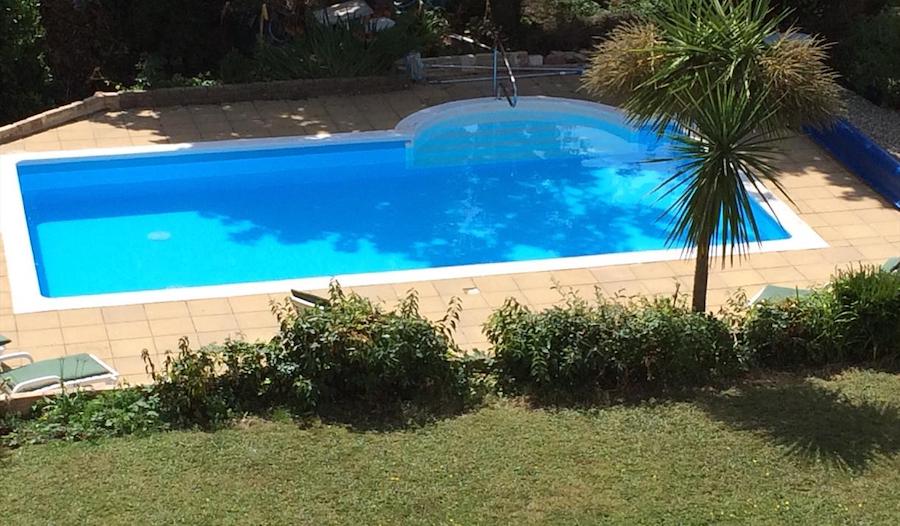 TripAdvisor Certificate of Excellence 2019
Take a dip in the Croft House Hotel's generous-sized seasonal heated outdoor pool. Set in an 1850's villa, the Crofton House Hotel has fantastic leisure amenities including a hot tub and a sunny terrace with comfortable sun loungers and parasols to relax and unwind. Guests can also enjoy the invigorating feel of the jacuzzi, sauna and steam facilities. Just a short stroll from Torquay town centre and with easy access to the English Riviera's 10 award-winning beaches, this exclusive, adult only boutique hotel has plenty to offer.
Take a look at the English Riviera accommodation pages for more ideas of great places to stay.
Related
0 Comments