The English Riviera offers some of the finest quality hotels in the South West and you'll simply be spoilt for choice. There's nothing quite like staying by the sea and taking in the Mediterranean-style climate and spectacular views across Devon's beautiful bay.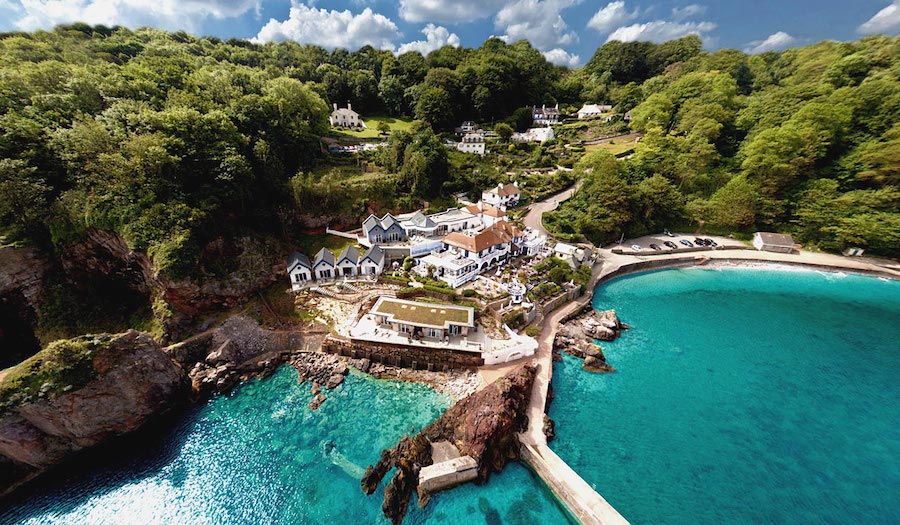 Tucked away in a secluded and peaceful corner of Babbacombe in Torquay, the Cary Arms & Spa Hotel is a traditional inn blended with the spa facilities of a boutique hotel. With its tasteful New England style décor, this multi award-winning exclusive accommodation has one of the most sensational locations with spectacular views, overlooking Babbacombe Bay and the English Riviera's outstanding coastline.
The Cary Arms & Spa offers spectacular sea-facing sunbathing terraces, dining recently refurbished quaint fisherman's cottages and luxury bedroom suites. The idyllic setting is the perfect romantic retreat for a weekend getaway with a loved one or a holiday break in South Devon with a group of friends or family members.
Dogs are welcome too, so you can relax and unwind with your four-legged pal by your side and take advantage of the great waterside location for long coastal walks or splashing around at the dog-friendly Babbacombe beach, just a pebble's throw away.
Look out for Sammy the Sea who often makes a delightful appearance in the local sheltered waters.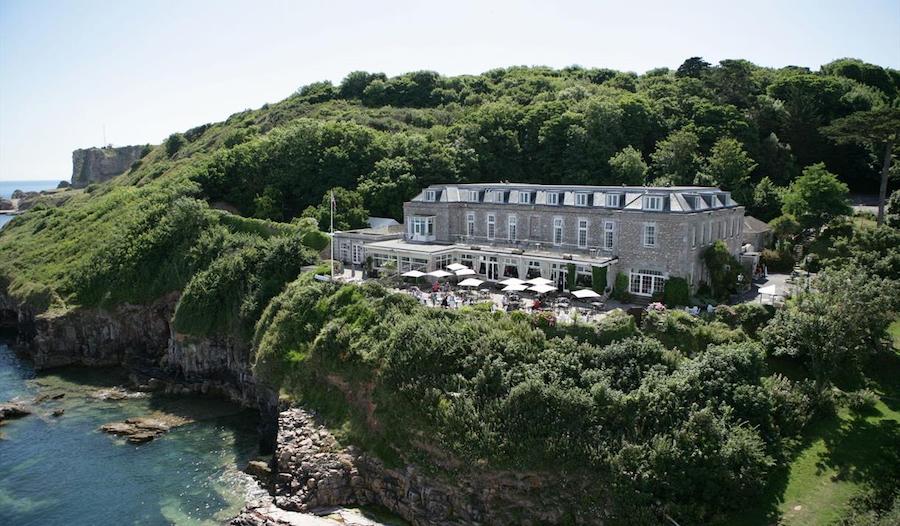 Berry Head Hotel holds the most unique waterside position and is one of Brixham's best-known landmarks. This dog-friendly 3-star hotel is set within 6 acres of beautiful country grounds and neighbouring Berry Head National Nature Reserve, a gateway site to the English Riviera's UNESCO Global Geopark is within easy reach. There are spectacular scenic views of the quaint Brixham fishing harbour and across Tor Bay from the most stunning, unrivalled spot, perched on the cliffside.
The View Brasserie and Terrace serves appetising freshly-made meals using locally sourced ingredients and some of the finest quality fish from England's Seafood Coast. This is a very popular venue with locals and returning visitors who enjoy quality accommodation, great service and wonderful coastal sights. Relish the English Riviera's 22 miles of dramatic coastline on a warm summer's evening with a spot of alfresco fine dining at this superior sea-facing hotel.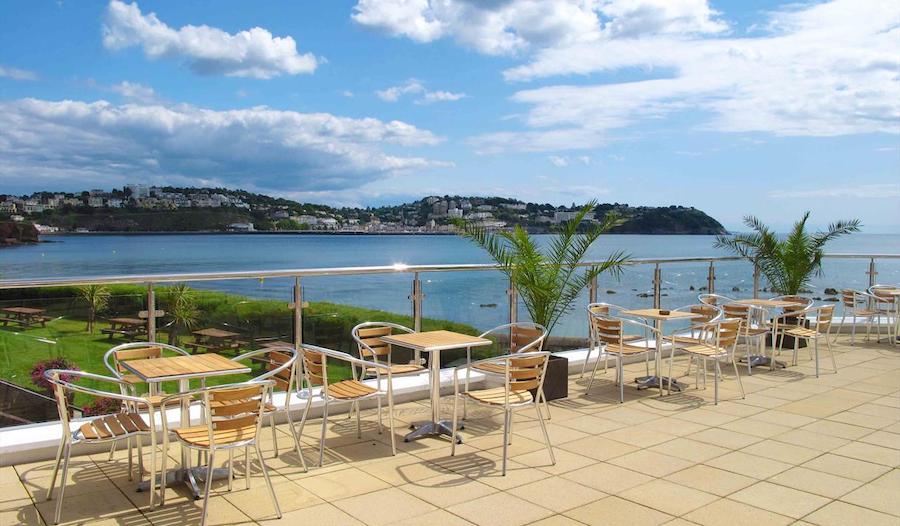 Torquay's only 3-star hotel is located right on the water's edge with a beach on either side and its own private access to the sea. The Livermead Cliff Hotel is a family-run business with secluded gardens, a heated outdoor pool and pleasant terrace giving panoramic sea views.
Many of the guest rooms are sea facing and the hotel lounge bar has far-reaching views of Tor Bay and towards Berry Head in Brixham. If you fancy dining by the sea, Oceanic Restaurant provides the perfect setting for a special event or romantic evening with stunning sun-sets as a wonderful backdrop.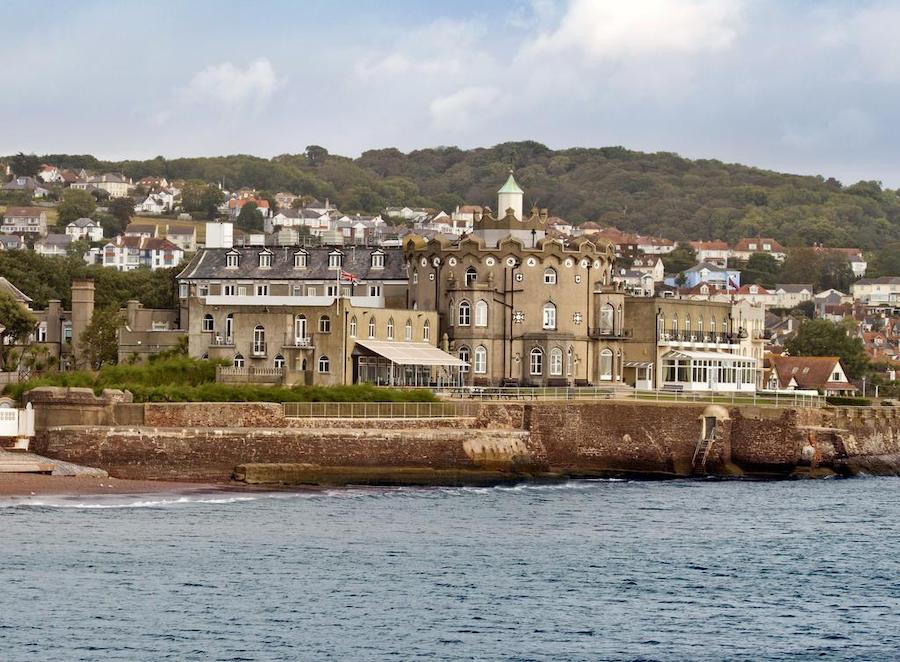 Situated within 3 acres of landscaped grounds, the stylish Redcliffe Hotel has one of the most prominent and enviable waterfront positions, between Preston Sands and Paignton Seafront. This 70-bedroom hotel, housed within a grand Anglo-Mughal style Grade II listed building, has been welcoming visitors to the English Riviera since the 1900's.
The 400m wide water frontage offers spectacular coastal views and the Sea-View Restaurant is a great place to enjoy some fine dining and marvel at the award-winning red sandy beaches, crystal clear waters, Paignton's iconic pleasure pier and interesting variety of sea and wildlife. The English Riviera's stunning landscape forms part of the UNESCO Global Geopark and this can be seen with the sandstone cliffs at Hollicombe, Roundham Head and Corbyn Head and Thatcher Rock in the distance towards Torquay.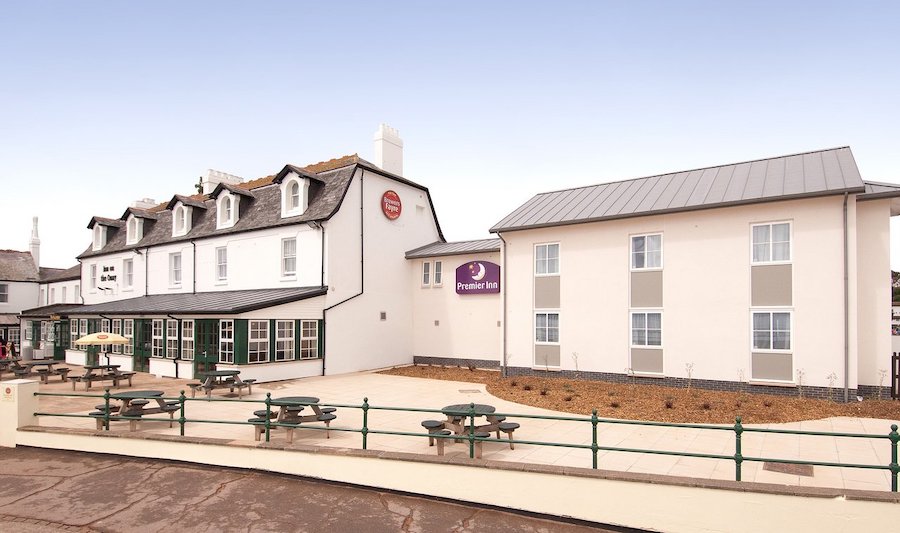 This well-known hotel chain has the most incredible seafront location overlooking Goodrington Beach in Paignton. This is a great base for families looking for a seaside holiday in Devon with an amusement centre, Splashdown Quaywest water park and boating lake within less than a minute's walk. Relax and unwind in the mild sea breeze, take in the picturesque vistas and tranquil atmosphere of being on the coast.
Premier Inn has plenty of sea-facing rooms and a large enclosed, outside terrace to sit with a cool beer or a glass of wine and enjoy the breath-taking scenery. At night time look out towards Goodrington's pretty, illuminated cliffside garden, filled with semi-tropical plants and winding paths with the charming multi-coloured beach huts dotted along the promenade at the water's edge. A picture-postcard setting to create those memorable holiday moments of your time in South Devon.
For more inspiration visit the accommodation pages on the English Riviera website.
Related
0 Comments