England's Seafood FEAST 2019 take place between 20 September to 6 October. Check out all the events taking place and start planning your sefood lovers trip.
Some things can be so easy, just like sampling the freshest mussels in the world, right here on the English Riviera at Below Decks. Brixham mussels can be caught, landed, delivered and served all on the same day here in Torquay! We recently tracked the whole process from sea to plate, and now you can read all about it!
Brixham mussel fishing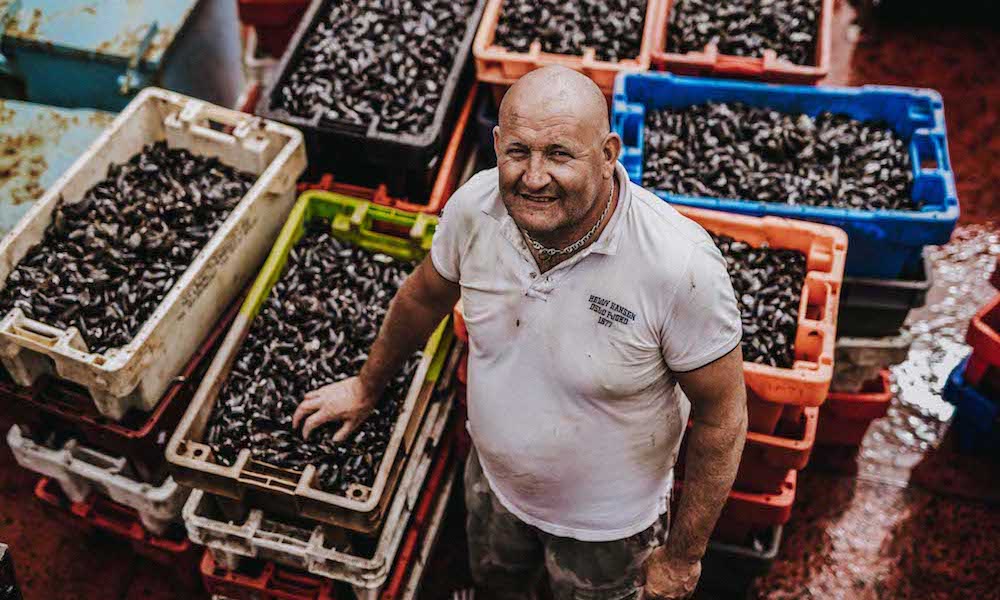 There are small mussel farms all around the coast of Brixham, this enables us to serve up the tastiest and freshest mussels that the UK and potentially the world has to offer! We were lucky enough to intercept Darren Fowler and his family as they returned to Brixham Harbour with a fresh load of mussels, which would have been sent straight around the English Riviera to places like Below Decks in Torquay.
Darren works for Brixham Sea Farms who have a mussel farm located west of Brixham harbour, between Fishcombe Cove and Elberry Cove. The mussel farm measures 300 metres by 100 metres. They have long lines set 2 metres below the surface to catch the mussels. Ropes are used to encourage seed mussel to settle on the long lines, which hang down clear of the seabed. After the ropes have been in the sea for a month, the ropes will be suitable for the seed mussel to settle and attach themselves to the ropes with bysuss threads and can then be hauled in and landed at Brixham Harbour.
As you can see, we managed to catch Darren with a boat load of fresh Brixham mussels, these would have been sent onto many restaurants around the English Riviera, such as Below Decks in Torquay who specialises in preparing freshly caught Brixham mussels.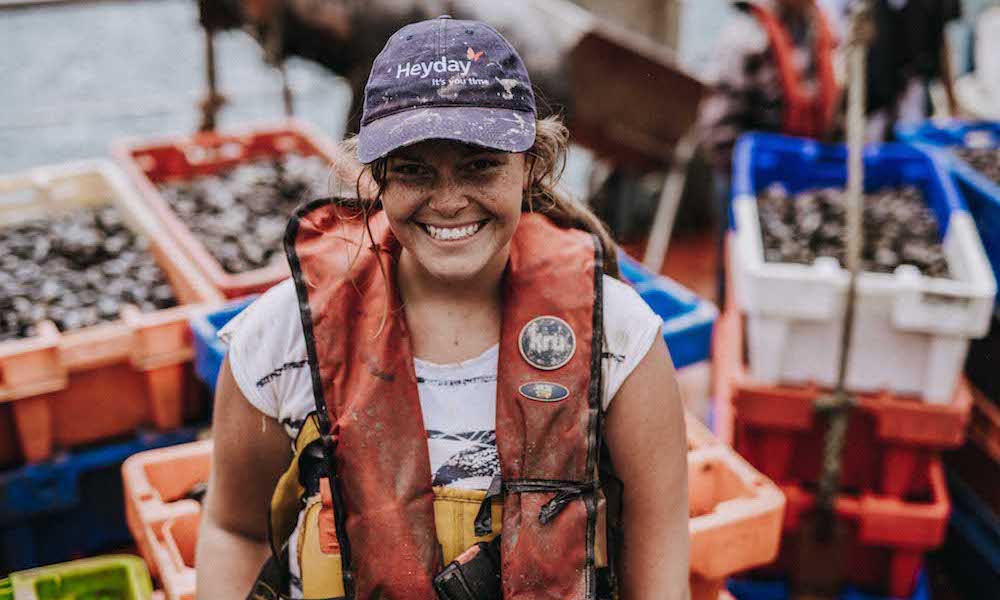 Brixham mussels recipe, Moules Mariniere style
Once the mussels arrive at Below Decks in Torquay, they are in the safe and experienced hands of head chef Frank Molley, who has generously shared his moules mariniere recipe with us, and you! So if you can't come down to check out England's Seafood FEAST this year then be sure to bag yourself some fresh Brixham mussels and try this one at home.
Frank's a bit shy, so we brought in the help of a lovely staff member to present the amazing Brixham mussels dish!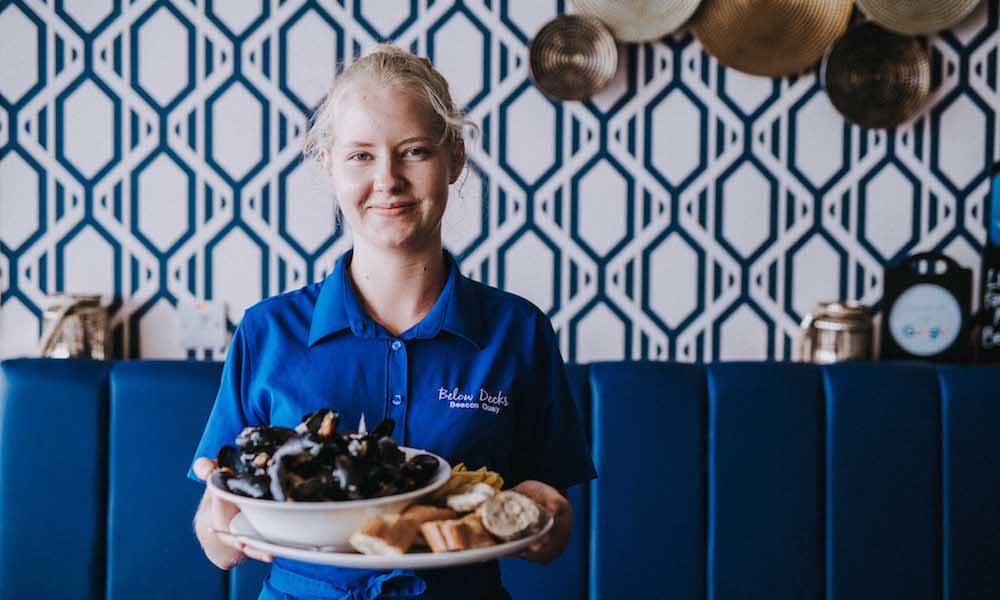 Ingredients
3 kilo mussels

4 cloves of garlic

2 large shallots

Bouquet garni (thyme, parsley, bay leaf)

2 lemons

Pint of double cream

200g butter

2 large glasses sauvignon blanc

Salt & pepper to taste
Method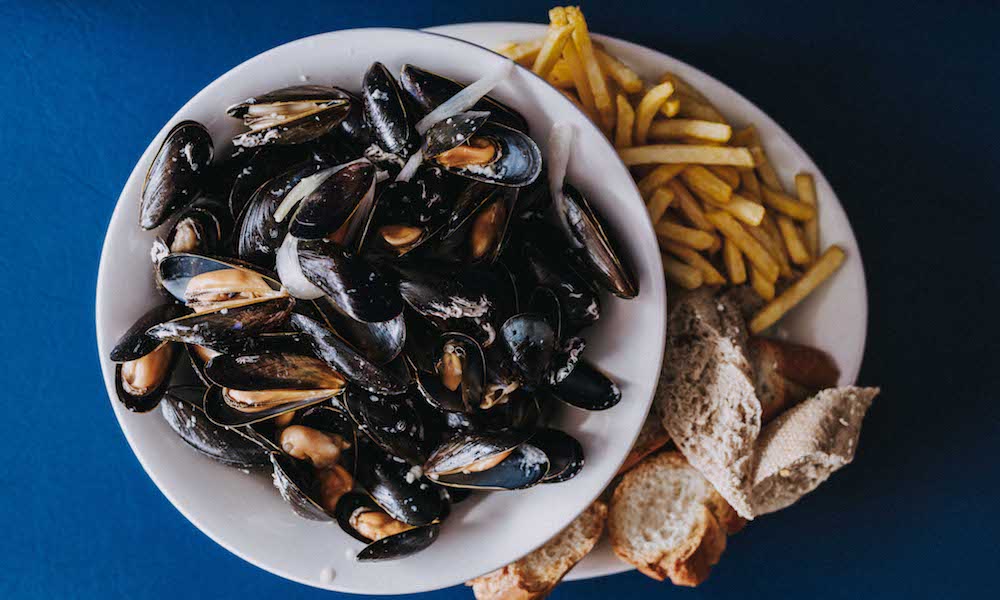 First clean the mussels in cold water to remove the beards and any silt or sand. Discard any that don't close when tapped.
Put a large sauce pan on high heat until pan is hot
Pour in the wine, 1/2 butter, shallots, garlic, lemon and the herbs then reduce the liquid content to about 1/3.
Add the mussels and place the lid on the pan and steam until mussels open. Divide the mussels between 4 bowls and put the broth back onto simmer.
Add the remaining butter and double cream, reduce until thick and season to taste.
Pour the thick cream over the mussels and serve with crusty bread.
Becoming a head chef on Torquay harbourside
Originally from just outside Glasgow, Frank moved down to Torquay in 1998. In 2000, as many chefs do, he started working as a KP in Jingles Restaurant. During his time there he got first hand experience of working in a commercial kitchen where the head chef got him involved in preparing starters and desserts. This is when Frank realised a career as a chef was the direction he wanted to take. Frank then spent time working as a chef around the English Riviera, in a number of places such as Amici's, Churston Court, The Shack and Meat 59 before joining Below Decks in May 2017.
Frank loves working at Below Decks and says "it has a great location on Torquay's Harbourside, even has great views from the kitchen!" As a small, independent family run business he has the freedom to experiment with the daily specials board using locally caught seafood including Brixham's mussels which Below Decks is famous for. Their special Paella and Surf 'n' Turf evenings are great fun and he enjoys the fast paced environment and working with a fun, hard working, enthusiastic team around him!
Frank loves living in Torquay, his favourite place is Torquay's vibrant seafront areas with great restaurants and bars. A real cosmopolitan atmosphere with a touch of the Mediterranean! During his spare time (which as we all know in catering is limited!) is spending time with his young family who love making "Daddy do all the girly things".
Frank and all the Below Decks team are really excited to be involved in England's Seafood FEAST. "It will be great for the Bay to show off the amazing seafood we have on our doorstep" and Below Decks have a Seafood FEAST marquee situated on Beacon Quay right on the Harbours edge, from Thursday 27th September until Sunday 7th October.
Here are all the events that Below Decks is hosting for the FEAST;
Thursday 27th September - Paella evening with live music from Christian Picotto.

Friday 28th September is our fish and fizz evening with live music from Front Cover

Saturday 29th September is Surf n Turf evening

Sunday 30th September will be Bao Fish Buns, Flamingo Cocktails and live music from Harbour

Monday 1st October we will be offering lots of different flavours for Mussels

Wednesday 3rd October will be Fish Pie and a Pint

Another Paella evening on Thursday 4th October

Sunday 7th October with a Fish BBQ and a Sunday Session of music from 12noon until 8pm in conjunction with two of our suppliers, Bays Brewery and Hunts Cider!
There are more events being added all the time. To stay up to day then follow Below Decks on Twitter or Instagram using @BelowDecksTQ1, to keep up to date with all our events for England's Seafood FEAST.
Related
0 Comments