Key dates of The Vigilance
1926 - Built by J.W. Upham of Brixham
1949 - Converted to a yacht
1950s - Badly damaged by fire and rebuilt over 15 years
1997 - Bought by a group dedicated to restoration
Here is the full story of one of Brixhams oldest fishing trawlers, The Vigilance, told by current skipper Neil Murray.
She was built in 1926, the last of the wooden sailing trawlers built at Uphams Yard here in Brixham and was slipped into the water towards the end of 1926. She was built for a local family, George and Fred Fisher, George was the owner and Fred was the first skipper. She initially cost £1000 as a bareboat - meaning she only had a "hull and spar" - George had to take out a further loan of £350 from a local fish-sailsman to fit her out with the sails and all the working lines. She successfully fished until roughly 1935 and was put up for sale between then and 1939.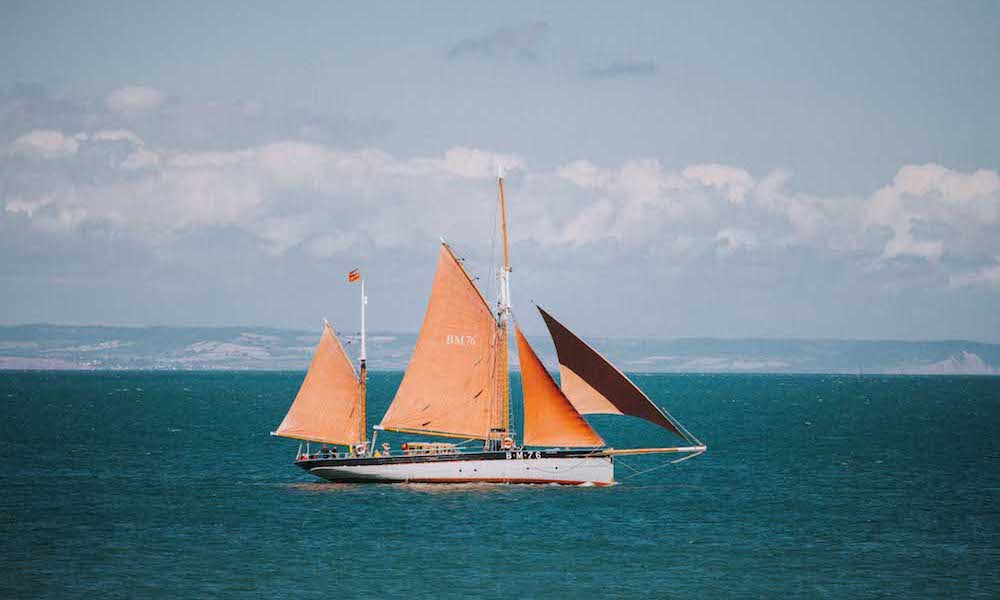 Falling fish stocks and the advent of powered trawlers with diesel engines and the onset of World War II meant that the old/original sailing trawlers were no longer viable, therefore a large number were put up for sale. In 1939 Vigilance was bought by Percy Upham and put back into the Yard's ownership. She spent most of the time during World War II as a floating barrage balloon mooring vessel around the pontoon in Brixham and Teignmouth.
Vigilance was sold again after the war in 1945, to a chap called Meldrum who was looking to use her for scrap wood which unfortunately was the same fate that many of the old fishing boats suffered after the war. However, a few months later she was bought yet again by another chap called Harold Owens who turned her into a gentleman's yacht and sailed her with his son for about 5 years. Unfortunately, or well fortunately(!), he owned another boat named the Solange which was a motor yacht. He and his son were in France when they had to abandon ship because the boat was grounded!
The son was meant to bring Vigilance back to France to rescue his Dad and the Solange. There was a lot of debate/confusion about what exactly happened next/at this time and then on the night of the funeral of Harold Owens, Vigilance actually caught fire! At this time, rumour was that it was in fact the widow who had decided she didn't want the son to take the boat over to France… she had lost her husband after all and she didn't want to lose her son!
So, Vigilance was fairly extensively fire damaged but still declared viable by the authorities and the insurance company. She then laid on a pontoon, greatly out of action for about 5 years… being used as a storage platform and an additional pontoon.
Then sold to an Australian - we know little about him - he had a plan to take the boat to Australia - he met a guy called Ken Harris who also shared this desire to go to Australia with him and the Vigilance - Ken was a joiner and got involved helping out on the boat.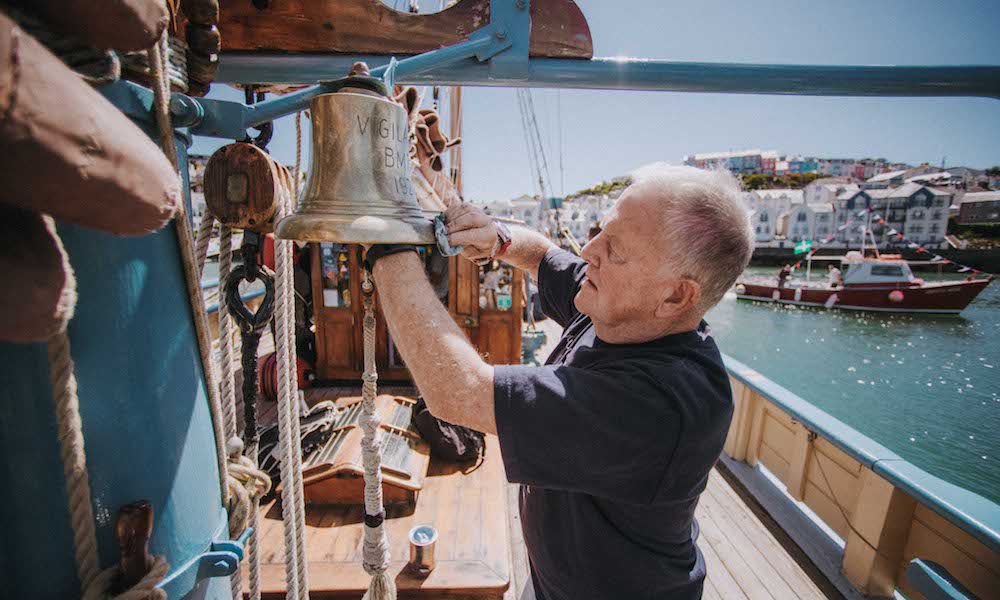 Prior to this, the Aussie had tried to sail Vigilance - using an old tarpaulin as all the sails had disappeared! He was inevitably pulled in by the coastguard and the boat was declared a navigational hazard - so a fairly 'chequered' part of the story there!
Ken got involved (as a joiner) - on 25 October 1955 the Aussie did a runner and left an outstanding Bill of roughly £80 to the work that Ken had already done - he therefore left him the Vigilance as collateral for the debt. On 25 October 1955 Ken Harris became the owner and then pretty much dedicated the rest of his life (42 years) doing her up/replacing spars/frames/much of the planking.
She was then registered with the Cutty Sarks tall ships and was working!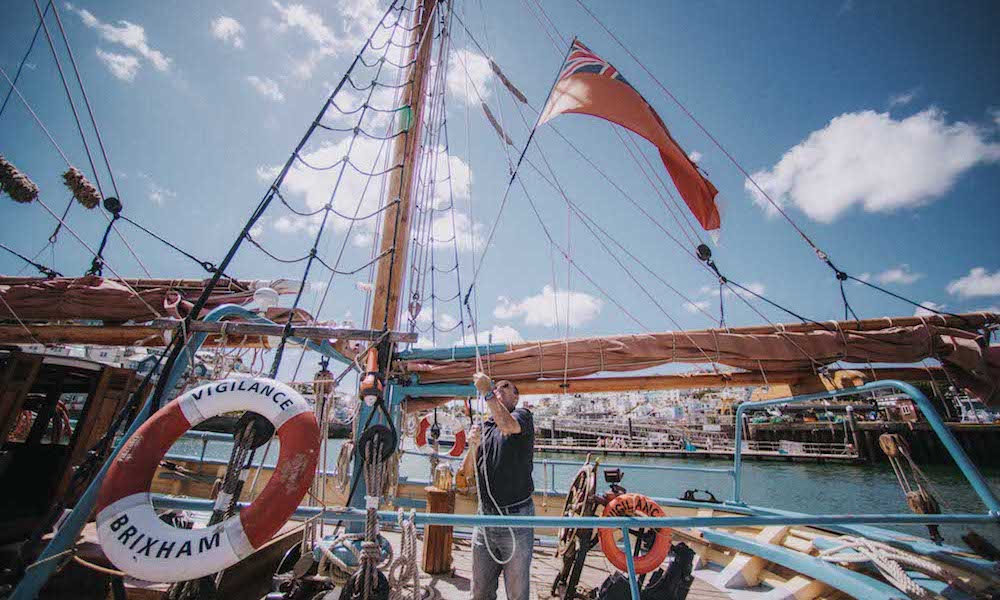 Ken brought her back to Devon and spent some time working in Dartmouth. She was used in the filming of the Master of the Ballantrae and then taken up to Anglesey where he was fitting the boat ready for an Arctic expedition - she then spent 2 years in the Arctic! - After this mammoth journey Ken came back to Devon, at which point ill health meant he moved to the Isle of Man and lived ashore rather than on the boat.
In 1997, a team from Brixham, including Phil Wakeham and one or two others, were determined to get The Vigilance back to Brixham where she belonged. They successfully brokered a deal with Ken, who was also pleased with this outcome. They brought the boat back to where she came from and has been with the Vigilance of Brixham Preservation Company ever since!
Vigilance in the modern day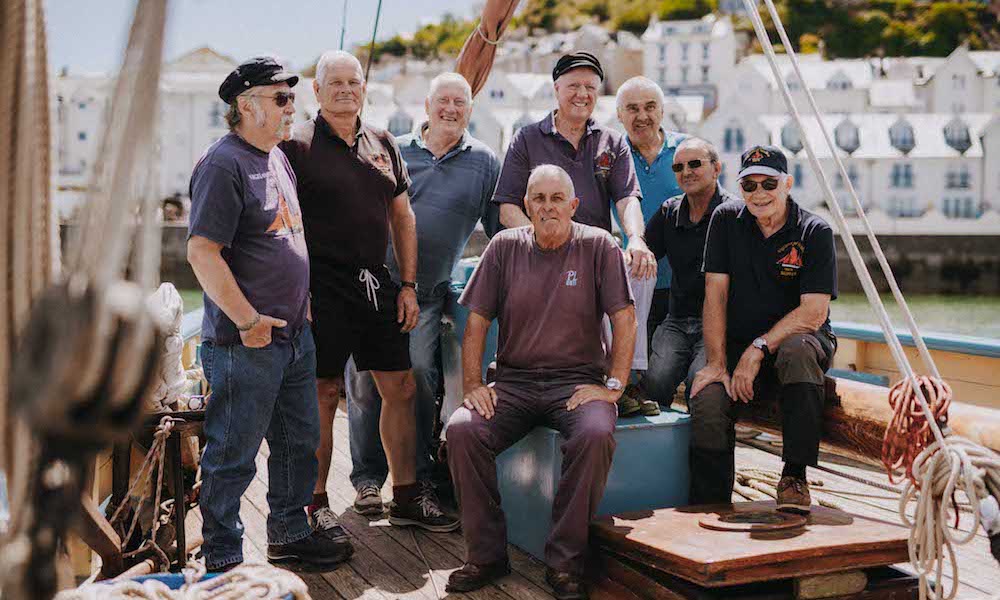 Nowadays The Vigilance is used to take people on 3-hour sailing trips around the Bay to experience at first hand what it would be like sailing on a heritage sailing trawler - the last of the old Brixham trawlers.
We also offer charters - half day or full day - there is also the option of going across to France and spending a week at sea sailing on the majestic Vigilance!
The boat is now owned by 50 shareholders. Everybody associated with the boat is a volunteer and is very much a labour of love relationship - anyone who owns a wooden boat would know that!
There is currently a total of 75 people who have registered an interest in sailing the boat but unfortunately, of that there is probably 20 who are regularly keen to sail the Vigilance.
We are always trying to coax people back onto the boat and often do crew only days to let volunteers find their feet again and remind them of why they signed up in the first place!
There is a multitude of different roles on the boat;
Skipper - The Vigilance currently has 4 different skippers

Watch-leaders - sufficient and navigational experience who could take control of the vessel on a long passage and take over when the skipper is taking some well earned Zzzzz!

Leading-hands - act as first mates - when going out on a sailing like this (3 hours) - Skipper will designate a 'First mate' and this is primarily focussed on Health & Safety - making sure that everyone on board is safe - when visibility is not great and standing at the back of the boat Skippering its quite hard to see everything that is going on, therefore the first mate is always the one who acts as the Skippers 'eyes and ears' for the rest of the boat

Deckhands - experienced with boats and can work hard - know where all the rigging goes and can help with various rope lines

Trainees - new to the boat and still learning - do what you can!
The Vigilance Skippers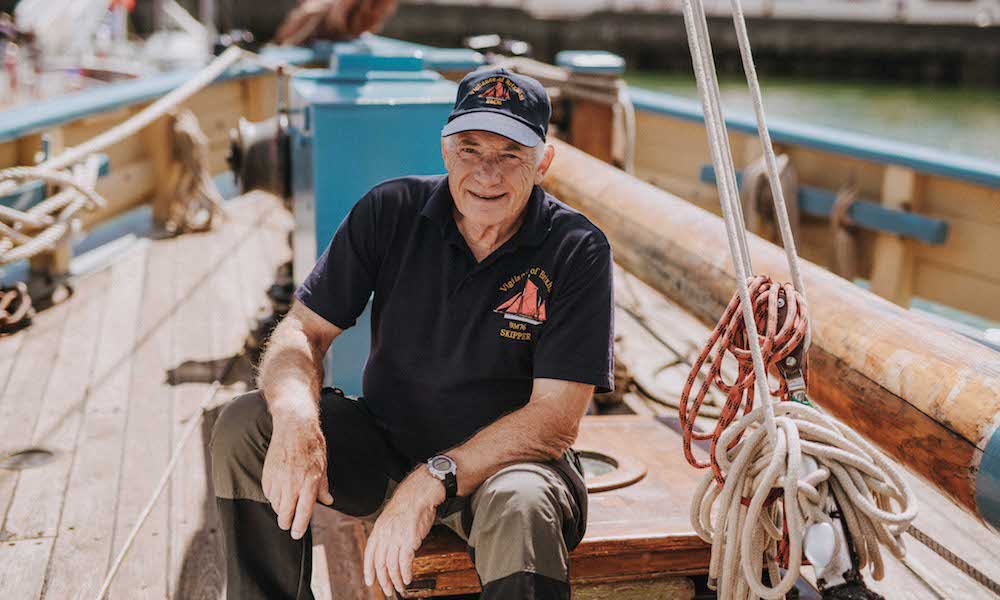 Today, the boat is technically lucky enough to have 4.5 skippers! This is quite funny because when the boat was originally sold it sailed with 3 men and 1 boy. However, if the boy couldn't handle the trawler line he was often referred to as a half boy... so could say we have 4 and a half skippers!
All of The Vigilance skippers come from a variety of backgrounds - but all associated with sailing through one form or another, some for longer periods of life than others. The current skippers at the time of writing this, are;
John Ashford - Heavily associated with RNLI Torbay Lifeboats and also a paramedic
John Welch - Retired Naval Commodore - now cruising instructor
Neil Murray - Cruising and powerboat instructor
Jerry Scott - ex fireman in Tower London - associated with fire tugs in port of London
Steve Cowley - Skipered last year but having a year out… (hence the half Skipper!)
For more information about The Vigilance, then check out the following sources;
Classic Boat magazine
"History of Vigilance" by Marin Historian, Janet Cusack
Related
0 Comments