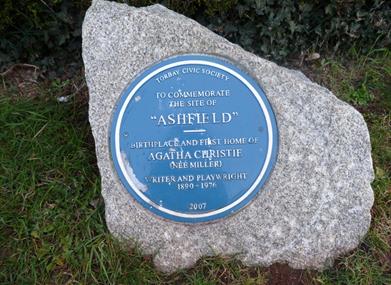 Opening Times
Agatha Christie's Blue Plaque
(1 Jan 2017 - 31 Dec 2017)
Address/Location
Barton Road
Torquay
Devon
TQ1 4DP
Contact
A Blue Plaque on Barton Road, Torquay, marks the spot of Ashfield, Agatha Christie's childhood home. Ashfield was a large Victorian mansion where Agatha spent a happy childhood with her parents, Frederick and Clara Miller, and her elder siblings Monty and Madge. Her autobiography describes their youthful escapades and the residing memories that the author has of this special place. She remained there until she married, and returned for the birth of her daughter Rosalind.

In her novel Postern of Fate, it appears that The Laurels was a representation of Ashfield.

She sold Ashfield in 1938, and the property was demolished in the 1960s to make way for a modern apartment block. It's still clear to see, however, the views that the mansion would once have commanded, and how the young Agatha would have enjoyed walking to the sea, and walking through the lanes and hedgerows at the top of Torquay.
Free advice from travellers on
English Riviera hotels
for a great holiday on the
English Riviera