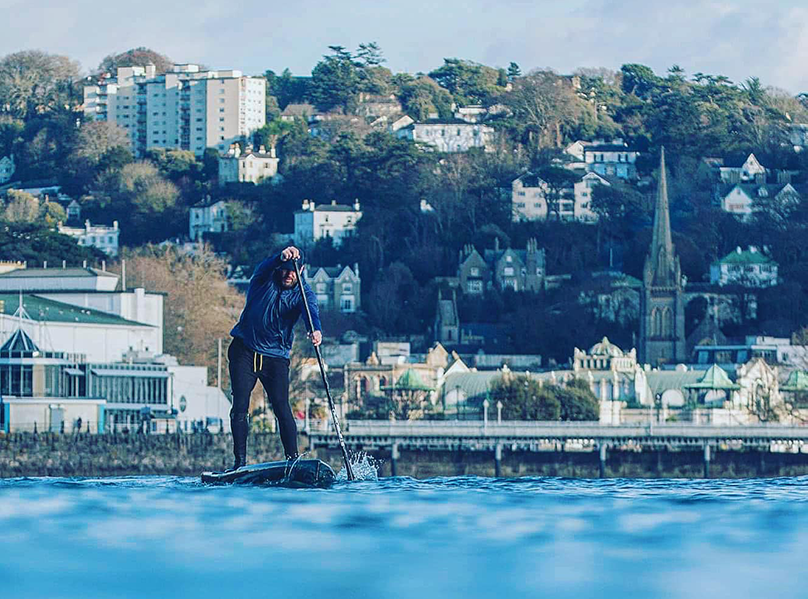 Image courtesy of: The Long Paddle
A Torquay-based, sea safety campaigner has become the first person to paddleboard from Land's End to John O'Groats.
Brendon Prince, 48, set off from his hometown Torquay on 27th April. On 19th July, Brendon arrived at John O'Groats, completing the historic journey in 74 days and 12 hours.
Brendon is also set to make history by becoming the first person to complete the 3,800 mile journey around mainland Britain on a SUP, the first person to paddle around Scotland, and he is set to take the prize of the longest paddleboard journey which is currently 1,429 miles (2,300km).
Image courtesy of: The Long Paddle
The beach lifeguard aims to raise £200,000 to be used to increase awareness of water safety. In 2014, Brendon was an off-duty lifeguard at Mawgan Porth beach in north Cornwall when three people drowned. He pulled two people from the water but was unable to save their lives. Seeing first-hand the impact of the deaths on their families drove Brendon to set up the Above Water charity which teaches children about water safety.
Money raised from the journey will go to seven charities and towards creating a sea safety app.
"Getting the water safety message to people that I would not normally be able to get to, that's the opportunity of a challenge like this," he said.
"Accidental drowning is a catastrophic event for the family and the local community, but in so many cases could have been avoided through an understanding of water safety and drowning prevention techniques. We are an island nation but most of our inhabitants know very little about water safety or how to stay alive in a potential drowning situation."
Image courtesy of: The Long Paddle
On his historic journey, Brendon is supported by two friends, Will Reddaway and Harry Thompson, who are documenting the challenge via their website and Facebook page called The Long Paddle.
The trip has seen the lows of losing a paddle in a storm to the highs of being surrounded by hundreds of dolphins.
Image courtesy of: The Long Paddle
The scariest moment so far has been crossing from England to Scotland:
Brendon: "There was this huge wind farm and I was surfing down a standing wave that was over my head with the blades above me. Even though they are 30m above the water it feels like they're going to chop your head off. Then I fell and dropped my paddle. It's stormy and grey and I'm 15 miles from the coast. I fell to my knees, my nose hit the front of the board. I had fallen vertically and my hands hit my paddle so I found my paddle. Then had another six hours to reach the destination. You have to start breathing, recoup and sort yourself out. Panic is what kills most people so you can never panic."
However, during his long journey on the water, he has learnt the subtle clues that nature gives.
Brendon: "You read what the birds are doing, even the jellyfish, it all makes a difference. Birds will always take off into the wind so you can see what the wind is doing a mile ahead. Jellyfish always swim sideways to the current."
When he arrives back to Torquay, he is sure of a warm welcome. Many English Riviera locals and visitors have been avidly following his adventure and supporting him in this worthwhile challenge. The English Riviera is a haven for paddleboarders, and many people enjoy the calm waters of Tor Bay, however it is still so important to understand the basics of water safety before entering the sea.
Thank you to Brendon and the team for highlighting this invaluable cause. We wish you all the best on the remainder of your journey and can't wait to welcome you home. Good luck Brendon!
You can donate to The Long Paddle here.
Image courtesy of: The Long Paddle
Related
0 Comments