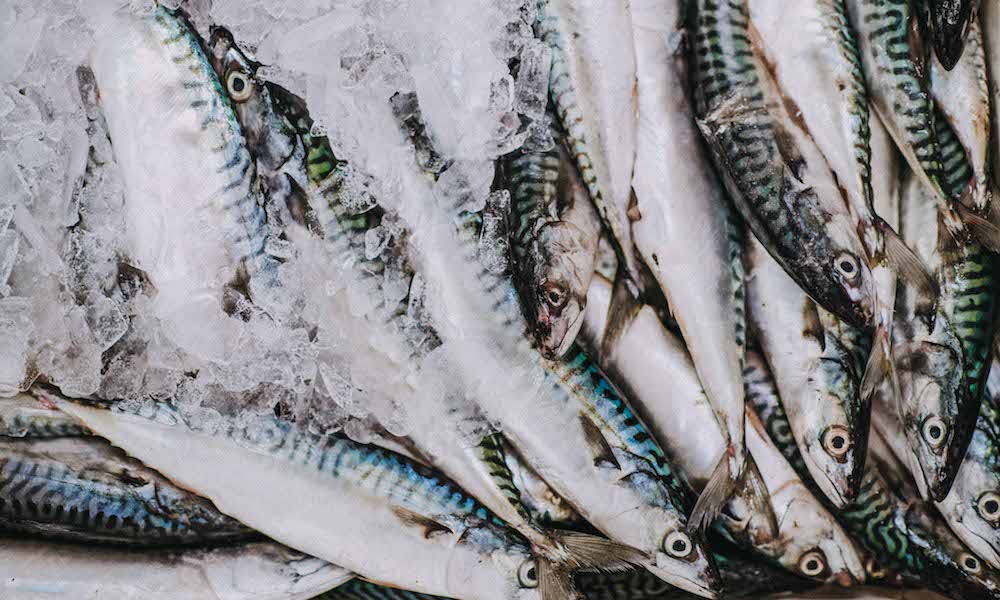 England's Seafood FEAST 2019 take place between 20 September to 6 October. Check out all the events taking place and start planning your sefood lovers trip.
No trip to the English Riviera is complete without trying some fresh local mackerel. This beautiful silvery blue fish is in abundance around the coast of Brixham and Torquay and so is very popular with local and amateur fisherman as well as with the large fishing trawlers leaving Brixham everyday.
We caught up with Mario, head chef from the newly opened Torquay harbourside restaurant 21s. Mario showed us a great way to prepare and cook freshly caught Brixham mackerel using his mackerel fish cake recipe.
Mario will be cooking up a storm and providing fresh Brixham mackerel during this year's England's Seafood FEAST. You should definitely try and get down to try some, but if you can't then why not go and buy yourself some Brixham mackerel from the world famous Brixham fish market and prepare this recipe at home!
Fresh Brixham mackerel fish cakes
Ingredients
Fish cakes
1 tsp smoked paprika

300g mashed potato

5 sliced spring onions

Zest and juice of 1 lime

Zest and juice of ½ lemon

300g skinned and boned mackerel

2 eggs

80g flour

100g breadcrumbs

Maldon sea salt

Cracked black pepper
Lemon and lime mayo
5 tbsp mayonnaise

Zest and juice of ½ lemon

Zest and juice of ½ lime

Large pinch of chopped parsley
Method
1. Mix the paprika, mashed potato, spring onions, zest and juice of the lemon and lime, maldon sea salt, cracked black pepper and mackerel together in a large bowl
2. Shape into 8 fish cakes
3. Add a pinch of salt and pepper to the flour and breadcrumbs
4. Cover fish cakes in flour, dip into a bowl of beaten eggs and finally cover fully in breadcrumbs
5. Shallow fry the fish cakes – 4-5 minutes each side, until golden brown
6. For the lemon and lime mayo, mix all ingredients together in a small dish and season to taste

Catching mackerel in Torquay
Mackerel is a wonderful fish and lots of people fish for mackerel in Torquay, Paignton and Brixham all year round. You will often find local amateur fisherman from early in the morning to late at night, dotted around the coastline, on small boats or even on their kayaks fishing for this wonderful fish. Mackerel is a meaty and oily fish that can be cooked whole straight on the BBQ!
A popular local mackerel fishing spot in Torquay is at Hopes Nose. You will often find professional fishermen casting their rod at Hopes Nose, including Henry Gilbey from the Home & Leisure show "Fishing on the Edge".
Hopes Nose fishing is well renowned in the area and can result in being quite busy, whatever the time of year or whatever the weather. It is accessed via a steep and winding path from Ilsham Marine Drive so sensible footwear and a degree of fitness is required. If you are hoping to fish at night or early in the morning then please ensure you carry a torch with you as the path is not lit up at night and can be dangerous under foot. Without a light and the necessary fitness is may well take you some time to descend or ascend with all of your equipment.
Once you arrive at Hopes Nose for some fishing, you will find two different types available; to the left hand side of the nose you'll be fishing on sand and to the right hand side of the nose you'll be fishing on rocks.
Mackerel fishing season in Devon
Fishing can be heavily dependent on what season it is and fishing in Devon is no different to anywhere else in the world. With roughly 120 different species of fish in and around the Devon coast it can be hard to work out the best time of year and time of day to go fishing for what you want.
Generally speaking, if you are looking to catch mackerel in Devon then the best time to fish is during the day and during the Summer months. You may however still catch some mackerel towards the end of Spring and through Autumn months.
Brixham fishing trips
Brixham is home to the world-famous Brixham Fish Market and is a historic old fishing town, and now has the largest and most diverse fishing port in the country. It is no surprise then that there are plenty of options for beginners, tourists, families and friends to take to the surrounding seas of the English Riviera on fishing trips to try and catch that local Brixham fish!
Whether you are hoping to catch Brixham mackerel or bass, trout or wrasse there are plenty of options to go and find them for yourselves. WeFerry and Funfish trips have teamed up to provide a great fishing experience on the English Riviera. They typically run between March and October but please get in touch with them if you're interested in mackerel fishing in Brixham or Torquay.
Related
0 Comments