England's Seafood FEAST 2019 take place between 20 September to 6 October. Check out all the events taking place and start planning your sefood lovers trip.
The list of restaurants and amazing chefs for England's Seafood FEAST is growing quickly. Here we show you a closer look at Barry George, Head Chef at Cantina Kitchen in Paignton and tell you what you can expect from Barry and his team at this year's event. Plus an exclusive look at one of his favourite seafood recipes, fresh oysters!
So what did Barry have to say for himself then..?
Becoming a chef by the beach in Paignton
Barry always wanted to run a cafe, and so, two years ago he came to Paignton and setup Cantina Kitchen with his sister-in-law Kate. Before that, he took his first kitchen job while at school as a kitchen porter in a country hotel and loved the environment and people he worked with. He eventually worked his way up through the kitchen and completed college to become a professional chef. Before joining Cantina he was a successful head chef and restaurateur. He has also cooked privately for celebrities, food critics, magazine editors and also (somehow!) managed a 200 cover pop-up backstage VIP restaurant at Glastonbury.
Barry says he absolutely loves seafood, but when cooking it, you don't always need to over do it. He loves fish cooked quite simply so you get the fresh sea taste from the fish, without overdoing it with too many sauces and flavours.
When he's not in the kitchen, he loves to get in the water and go sea swimming, anywhere in the bay!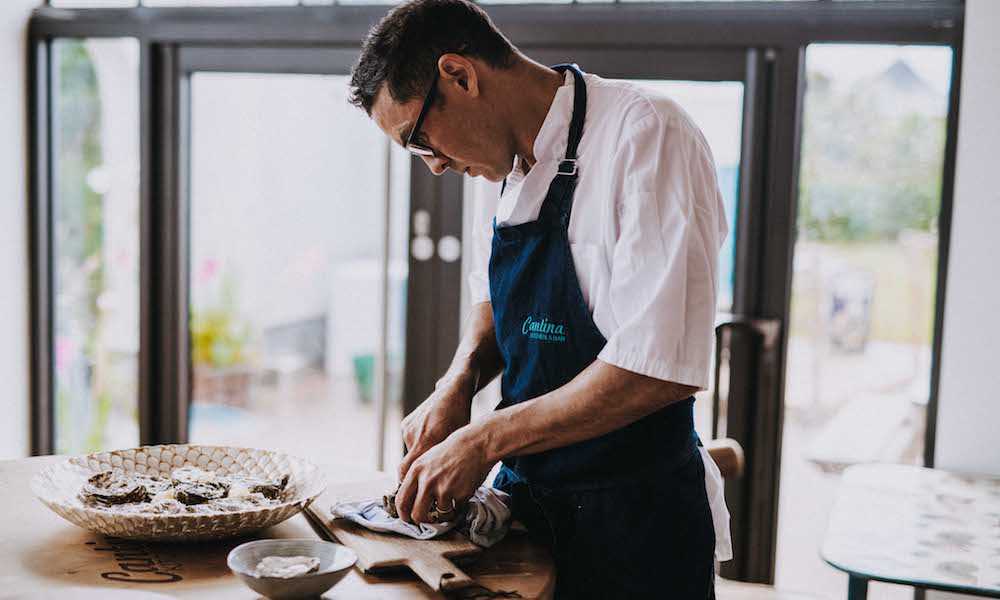 People can expect a real showcase of the best seafood that the bay has to offer from Cantina Kitchen during the FEAST. They have a myriad of events on to cater for all seafood taste buds and even some adventure thrown in there as well! Here is a list of all the events they will be putting!
5 course seafood celebration

Beach clean & music

Film night

Crab prep and masterclass supper

Catch & cook

Dip and dine wild style

Fish & fizz

Boats & BBQ

Forage & feast

Mussel preparation workshop
Fresh Devon seafood recipe
I between all that cooking and swimming, we managed to get Barry to prepare some amazing fresh oysters for us to try! England's Seafood FEAST is all about celebrating the quality and diversity of fresh seafood landed at Brixham Harbour every day. This is exactly what Barry did with this dish and is something you might be able to try at this year's event.
If you can't make the FEAST then check out his recipe below. Shhhhh… just don't tell everyone!
Freshly shucked Devon oysters
Ingredients
4 x Oysters shucked
For batter
100gr plain flour

100gr corn flour

1/4 tsp miso

10gr Baking flour

Soda water

4 x ice cubes
For Slaw
handful of white cabbage

handful of red cabbage

handful of celeriac

1 x carrot

2 x radishes

1/2 a red onion
For Asian dressing
4 x fl oz Olive oil

1 x small bulb of ginger

1 x tsp of sesame oil

1 1/2 x tsp of soya sauce

4 x fl oz Chinese rice vinegar

1 x clove garlic

1 x tbsp Honey

1 x tbsp of fish sauce
Method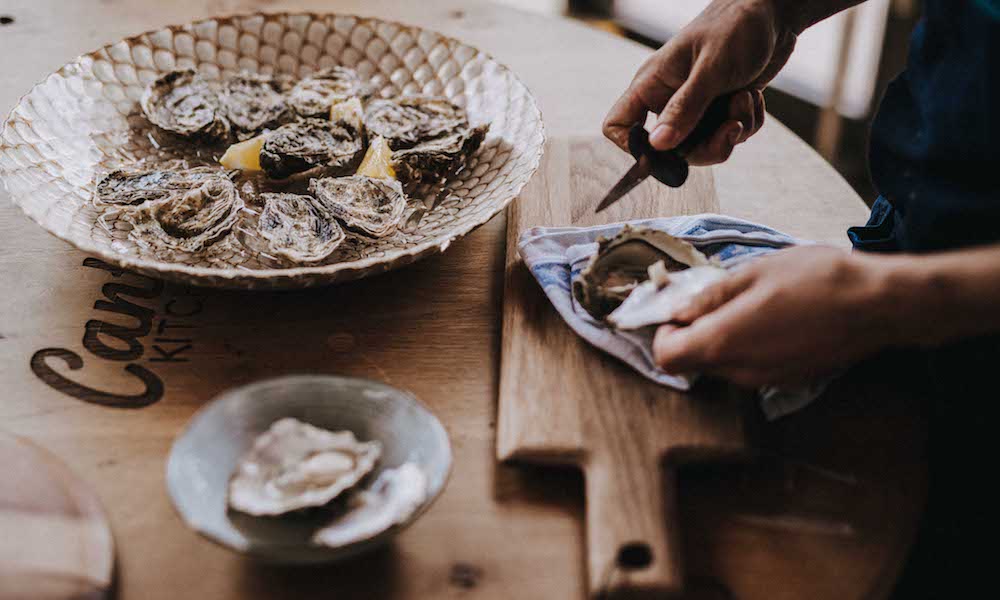 Pre-heat a deep fat fryer to 180c
For batter
Mix together in a bowl, the plain flour, corn flour, baking powder, miso. Slowly add Soda water until you have the consistency of double cream. Add ice cubes and leave to rest.
For Asian Dressing
Grate ginger and garlic into a small jar then add the rest of the ingredients and shake well until all mixed together. Any leftovers can be stored in the fridge for later use.
For the slaw
Thinly slice all of the vegetables and mix together and dress with Asian dressing.
To cook oysters
Roll them in seasoned Flour and then into the batter and fry until golden brown all over. Remove the oyster and place on top of your dressed slaw
Related
0 Comments