The Devon Court Luxurious Bed and Breakfast
24 Croft Road
,
TORQUAY
,
Devon
,
TQ2 5UE

TripAdvisor Traveller Rating
72 reviews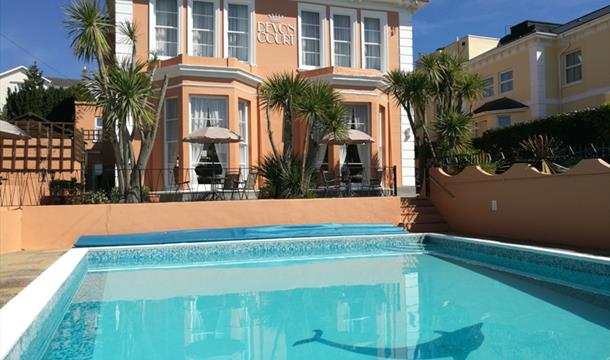 Book Now
Special Offers
About
Facilities
Contact
Map & Directions
What's Nearby
Booking Details:
Arrival Date:

11th Aug 2022

Departure Date:

12th Aug 2022

No. of Nights:

1

No. Adult:

0

No. Child:

0
About
Welcome to the Devon Court a Luxury Bed & Breakfast in Torquay, Devon.
Built in the middle of the XIX century, since the first day of its existence the Devon Court was a luxurious seaside villa. Having survived wars and crisis the villa has never lost its charm and status and always remained faithful to the original architecture, ensuring its position as one of the best seaside resorts in Devon.
Ideally located on a quiet road with a short walk to both the town centre and the beach, the Devon Court will be the ideal place to stay. Long hikes, beach and sea fun, fine dining or even yachting, – choose anything that fulfills your soul and the Devon Court would be delighted to become your base and home to relax in.
Relax in style with our wide range of deluxe rooms and spacious suites, or why not opt for our secluded private apartment. All rooms feature ensuites with walk-in showers, luxurious bespoke beds with fine linen, as well as a range of complimentary extras. We guarantee your stay will be extravagant, yet comfortable.
Allow yourself an indulgence from the daily worries and have a relaxing holiday in our home away from home.
Things to do in Torquay
First recognised as a holiday destination by the Victorians, Torquay has something to offer everyone.
Between our neighbours there are top class restaurants including the Michelin stared one as well as pubs and many lively cafes' and bars.
Start your break with a ride on the English Riviera Wheel (Seasonal), offering spectacular views over the Bay you can get to know the town, and continue it with visiting any of the top rated attractions, such as Cockington Country Park, with its grand manor house, thatched cottages, quaint church and stunning grounds.
The Devon Court is just a short stroll from the historic Torre Abbey Museum & Gardens which has now re-opened to the public after extensive renovation works and the famous 'Rock Walk' offering spectacular views across the bay.
There are many boat trips available from the pier within the walking distance from the Devon Court. Take a voyage across the English Riviera Bay to Brixham, a working fish port with many delicious fish restaurants, or further afield to Agatha Christie's famous former home Greenways where you can soak up the atmosphere crated by one of Torquay's most famous residents.
For theatre lovers, the freshly renovated Princess Theatre, is just minutes from the hotel, offering many West End style productions as well as the opportunity to see some of the UK's greatest names in show business. The Babbacombe Theatre with its spectacular 'End of the Pier' type shows and The Little Theatre offering regular high quality amateur productions.
Less then an hour by car may take you to cities like Exeter with its famous Cathedral, Plymouth with its well known Barbican area or Dartmouth with its Royal Navy history.
All of them may take the whole day of your time to get to feel accompanied with fine dining and beautiful scenery.
Awards
TripAdvisor Awards

TripAdvisor - Certificate of Excellence - 2019

2019

Regional and Miscellaneous

WTTC Safe Travels

2021
TripAdvisor

TripAdvisor Traveller Rating:
Travelers Choice 2022
Service

Value

Cleanliness

Location
Excellent

70

Very Good

1

Average

1

Poor

0

Terrible

0
Recent Reviews:
Well-located and well-appointed B&B in the heart of Torquay

28th July 2022

I have recently spent a most pleasant three nights at the Devon Court. A free, allocated parking space was guaranteed. The beach, harbour, shops, restaurants were all within half a mile or so...

Read full review

John47TQ

Torquay, United Kingdom

Touch of luxury with a fantastic pool

1st Aug 2022

My wife and I stayed at The Devon Court to celebrate our wedding anniversary. The location of the B&B is perfect for visiting the Town, however you really should spend some time to enjoy the B&B. The...

Read full review

Superb!

7th Aug 2022

Had a lovely weekend break at this exceptional B&B, we stayed in Origins room, what a lovely room, comfy bed, soft pillows, sumptuous furnishings, we really cannot fault our stay, breakfast was...

Read full review
Facilities
Room / Unit Features
Ground Floor Bedrooms Available
Facilities
Catering
Bar - Bedroom also features a Mini-Bar
Establishment Features
Facilities
Parking & Transport
On site parking - 10 uncovered car park spaces
Facilities
Leisure Facilities
Facilities
Other
Catering
Bar - Bedroom also features a Mini-Bar
Local Produce English Breakfast
Serve breakfast
Establishment Features
Beach within 2km
Garden/patio for guests' use
Ironing facilities
Licenced for alcohol
Separate guests' lounge
Key Features
Non smoking establishment
Leisure Facilities
Parking & Transport
On site parking - 10 uncovered car park spaces
Payment Methods
Accept Bank Transfers, Internet Payment or SWIFT/IBAN
All major credit cards accepted
Delta accepted
Maestro accepted
MasterCard accepted
Visa accepted
Room / Unit Features
Digital TV
Electric shaver point
Fridge
Ground Floor Bedrooms Available
Hairdryer in all bedrooms
Tea & coffee making facilities in all bedrooms
Specialist Features
Marketed as green/environmentally friendly
View Less
Opening Dates and Times
Openings 2022
(1 Jan 2022 - 31 Dec 2022)
The Devon Court Luxurious Bed and Breakfast
What's Nearby
CreativeTorbay.com is the hub for arts, events, and entertainment on the English Riviera.

0.14 miles away

9 Hole Pitch n' Putt On Stunning Greens, 10 Tennis Courts, and Lawn Bowls. All Equipment…

0.15 miles away
18 Hole Jungle themed adventure golf course. Wind your way through the jungle using your…

0.15 miles away

With 3.3million visitors every year, the English Riviera is South Devon's beautiful bay…

0.15 miles away

Artizan is an independent, fine art gallery situated on the English Riviera's stunning…

0.2 miles away

Awards are based on quality of management, cleanliness, water quality and other criteria.…

0.22 miles away

LIFESTYLE HEALTH & FITNESS SUITE One Of Torquay's Longest Standing Gyms With Experienced…

0.27 miles away

Do not touch! is the warning for all visitors to the Potent Plants Garden at Torre Abbey.…

0.29 miles away

An English Riviera UNESCO Global Geopark Key Site. 
Come and enjoy a visit exploring…

0.32 miles away

In 2007 the English Riviera was designated a Global Geopark and is one of just 7 sites in…

0.33 miles away

Landscaped gardens on the side of the cliff face on Torquay's seafront with stunning…

0.33 miles away

This delectable beach is part of the English Riviera and it lives up to its name with its…

0.34 miles away
Previous
Next
What's Nearby
9 Hole Pitch n' Putt On Stunning Greens, 10 Tennis Courts, and Lawn Bowls. All Equipment…

0.15 miles away

Abbey Meadows and Gardens is situated on Torquay Seafront. The meadow is a large open…

0.15 miles away

18 Hole Jungle themed adventure golf course. Wind your way through the jungle using your…

0.15 miles away

With 3.3million visitors every year, the English Riviera is South Devon's beautiful bay…

0.15 miles away

Artizan is an independent, fine art gallery situated on the English Riviera's stunning…

0.2 miles away

Awards are based on quality of management, cleanliness, water quality and other criteria.…

0.22 miles away

LIFESTYLE HEALTH & FITNESS SUITE One Of Torquay's Longest Standing Gyms With Experienced…

0.27 miles away

Do not touch! is the warning for all visitors to the Potent Plants Garden at Torre Abbey.…

0.29 miles away

An English Riviera UNESCO Global Geopark Key Site. 
Come and enjoy a visit exploring…

0.32 miles away

In 2007 the English Riviera was designated a Global Geopark and is one of just 7 sites in…

0.33 miles away

Landscaped gardens on the side of the cliff face on Torquay's seafront with stunning…

0.33 miles away

This delectable beach is part of the English Riviera and it lives up to its name with its…

0.34 miles away
Previous
Next