UK Foo Fighters
Princess Theatre
,
Torbay Road
,
Torquay
,
Devon
,
TQ2 5EZ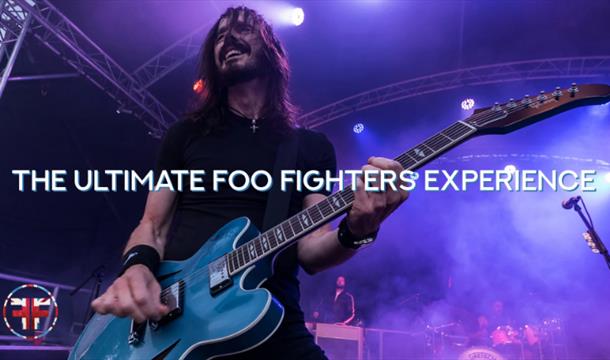 Event Dates
Book Tickets
Accommodation
About
Awards
Reviews
Contact
What's Nearby
Opening Dates and Times
UK Foo Fighters
(16 July 2022)
Book Tickets
About
This World-Famous tribute band 'UK Foo Fighters' takes you on a journey spanning 25 years of music from the now legendary 'Foo Fighters' and their charismatic leader, Dave Grohl.
Why go and see it?
They absolutely nail the true vibe of a Foo's live experience, all performed down to the closest detail making it a truly unmissable show for any rock music fan.
UK Foo Fighters' brand new show for the theatre is inspired by the Foo's studio album In Your Honor. It offers a unique opportunity for fans old and new to explore the melodic acoustic recordings from the Foo's live album Skin And Bones (recorded at the Pantages Theatre in Los Angeles), culminating with a powerhouse rock set featuring tracks from all 9 studio albums including greatest hits such as; Everlong, Best of You, Times Like These and All My Life.
Featured in Classic Rock, Rolling Stone, Kerrang, NME, Q, MOJO and Planet Rock magazines. UK Foo Fighters have built an incredible reputation over the last 12 years, heralded by Dave Grohl himself and celebrated as 'THE' tribute to the Foo's in a 2017 BBC documentary called 'UK Foo Fighters – My Hero', placing them firmly amongst tribute's elite.
Ladies and Gentlemen, would you please welcome…. me! ... That was awesome!
- DAVE GROHL (LEAD SINGER - FOO FIGHTERS)
Why not stay over after the show? Click here to search for accommodation availability.

Facilities
Key Features
In town/city centre
Indoor Event
View Less
What's Nearby
The pier, built in 1890, is the perfect place to stop and gaze out to sea, or to enjoy…

0.05 miles away
Landscaped gardens on the side of the cliff face on Torquay's seafront with stunning…

0.07 miles away

WELCOME ABOARD! "Western Lady" have been operating a fine ferry service between Brixham &…

0.09 miles away

Soaring high over the beautiful harbor in the heart of the English Riviera at Torquay,…

0.17 miles away

Torquay has been one of the UK's top holiday destinations since Victorian Times when the…

0.19 miles away

Are you bringing a group to the English Riviera to experience all it has to offer? Or are…

0.19 miles away

Wherever you go on the English Riviera, you'll find plaques that recognise some of the…

0.19 miles away

The English Riviera has 22 miles of coastline and a UNESCO Global Geopark, all of which…

0.19 miles away

A boat trip is the perfect way to experience the English Riviera from one of its best…

0.19 miles away

Awards are based on quality of management, cleanliness, water quality and other criteria.…

0.2 miles away

Torquay Marina is in the north-east corner of Torbay and sheltered from the prevailing…

0.21 miles away

Red House Mysteries are Devon's foremost interactive game and escape room company. Our…

0.22 miles away
Previous
Next