The Sleep Walk
Leaves from Paignton Green
,
(or Torre Abbey Meadows - TORQUAY)
,
PAIGNTON
,
Devon
,
TQ4 6ED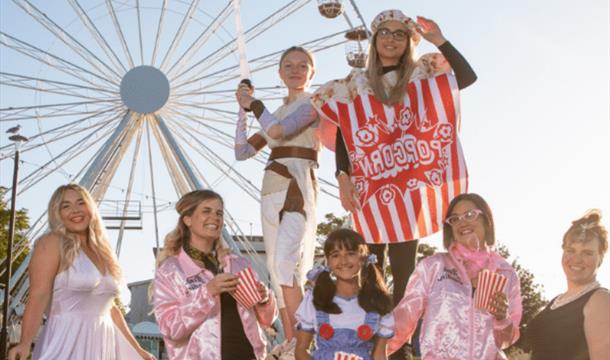 Event Dates
Book Tickets
Accommodation
About
Awards
Reviews
Contact
What's Nearby
Opening Dates and Times
The Sleep Walk
(2 July 2022)
Book Tickets
About
Be a shining star in our 40th anniversary Sleep Walk – 2 July 2022
Join us on Saturday 2 July 2022 for a fabulous 'night at the movies' as we sprinkle some Hollywood magic across Torbay in our enchanting sponsored night walk! Make memories to last a lifetime with friends and family while raising vital funds for the hospice.
We haven't yet opened our Sleep Walk to sign-ups, but you can register your interest and we'll let you know as soon as you can sign up. We'll be offering early bird discount codes in the new year.
TripAdvisor
The Sleep Walk
What's Nearby
The walk through Occombe Valley Woods includes pathways that are mostly gently sloping,…

0.14 miles away
Scadson Woods is a picturesque woodland situated between Occombe and Cockington. It is…

0.67 miles away

OurGlass produce an innovative range of studio glass using traditional glassblowing…

1.12 miles away

Oldway gardens are beautiful grade ll heritage gardens to found in Paignton in the heart…

1.16 miles away

Manscombe Woods are the woodlands next to Cockington Country Park. Begin your walk at the…

1.19 miles away

An English Riviera UNESCO Global Geopark Key Site. 

Cockington is a quintessentially…

1.32 miles away

Behind the Manor House within Cockington Country Park, you will find the peaceful Tudor…

1.31 miles away

At the heart of Cockington Village lies Cockington Court, a manor house with roots in…

1.34 miles away

Hollicombe Beach, sits between Torquay and Paignton. With its distinctive red sand backed…

1.53 miles away

A short walk from Paignton is Preston Sands, a great family beach. On this safe, clean…

1.55 miles away

Take your seats and let the show begin as the curtain rises at one of Devon's favourite…

1.56 miles away

The park is edged all around by trees sheltering it away from the town and, once inside,…

1.68 miles away

Paignton Beach offers the ultimate family day out at the seaside. With a sandy beach,…

1.75 miles away
Previous
Next