The Great Paddle Parade
Various Locations
,
TORQUAY
,
Devon
,
TQ2 6NY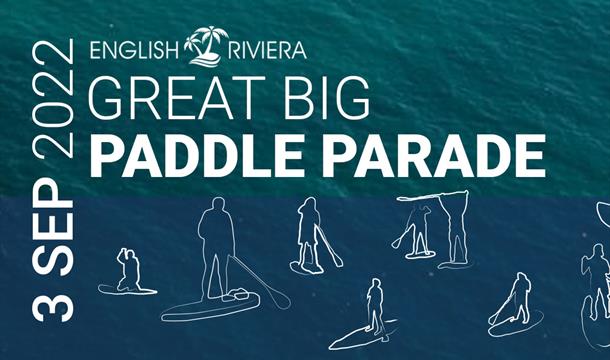 Event Dates
Book Tickets
Accommodation
About
Awards
Reviews
Contact
What's Nearby
Opening Dates and Times
The Great Paddle Parade
(3 Sept 2022)
Book Tickets
About
Wesup has teamed up with the RNLI to host an epic World Record Charity Fundraiser as part of their National Water Safety Campaign. The ambition… To have 1000 paddle boarders taking part in the largest guided coastal tour in the world to raise critical awareness of SUP safety, to raise vital funds for the RNLI Torbay Lifeboats and to inspire a generation of people to safely connect to their coastal environment.
This event will also be the largest ocean cleanup event by SUP. We've teamed up with Planet Patrol to collect all ocean litter on route and hand it over at the destination for the team to collect, sort and recycle, making this a huge win for the environment!
Tickets are just £15 from any location and 100% of profits will be donated to RNLI.
So how will The Great Big Paddle Parade work and how do you get involved?
Think of The Great Big Paddle Parade as an epic guided coastal tour. Choose from one of 6 starting locations based on the distance you can paddle and enjoy a breathtaking cruise along the world heritage, UNESCO Global Geopark coastline of the English Riviera.
Led by Wesup's most senior SUP instructors, you will pick up the groups at each location until all One Thousand paddle boarders end up gliding into the beautifully secluded bay of Fishcombe Cove for the official adjudication and one epic aerial photo! The groups will then be guided back to their original starting location… For some this will be an epic full day adventure on the water!
Locations offer paddles with total distances (there and back) of between 2km to 20km, giving paddlers of all fitness ability the opportunity to join us on this truly special event. To be totally clear, paddlers will be encouraged to select the location from which they are able to paddle there and back. This is for reasons to do with safety, parking logistics and personal experience.
We're raising money for charity… Challenge yourself in the safety of the RNLI's boat support with this beautiful and epic adventure event!
Start Locations & Launch Times
Choose from one of 6 launch locations around the bay, perfect for paddlers of all capabilities!
Abbey Sands: 08:00 on the water – 20km total
Preston Beach: 08:45 on the water – 15km total
Paignton Beach: 09:00 on the water – 14km total
Goodrington Beach: 10:00 on the water – 11km total
Broadsands Beach: 10:45 on the water – 6km total
Brixham's Freshwater Quay: 11.30 on the water – 2km total
TripAdvisor
BOOK NOW
The Great Paddle Parade
Map & Directions