Shadowing Hank - A Tribute to Hank Marvin
Brixham Theatre
,
New Road
,
Brixham
,
TQ5 8TA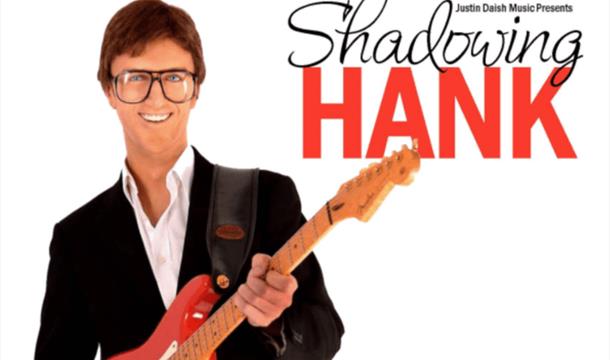 Event Dates
Book Tickets
Accommodation
About
Awards
Reviews
Contact
What's Nearby
Opening Dates and Times
Shadowing Hank - A Tribute to Hank Marvin

(29 July 2022)

Day
Times
Friday

19:30
Book Tickets
About
Following a triumphant first visit in 2019, guitarist Justin Daish's Hank Marvin extravaganza returns to Brixham with a fresh, new show.

Presented with a sparkling production, relaxed humour and polished vocals, Justin's visual similarity to Hank Marvin is not the only likeness in this show; his famously accurate guitar sound has seen him share the stage with The Shadows' Bruce Welch, Jet Harris, and his dear late friend Brian 'Licorice' Locking.

Featuring The Shadows' greatest hits, including 'Apache', 'Wonderful Land', 'Foot Tapper' and 'Cavatina', plus music that Hank Marvin has recorded and performed over a record-breaking 60-year career, Shadowing Hank captures the magic of the great man's live shows.

Shadowing Hank certainly has a claim to the title 'biggest small show in the world'. Come and see why, and join in this celebration of the music of one of the UK's greatest-ever guitarists. You'll be doing the Shadows Walk into the night, and humming the famous tunes long after you leave the theatre!
TripAdvisor
Shadowing Hank - A Tribute to Hank Marvin
What's Nearby
Brixham Theatre now presents a number of shows, including community shows and hired in…

0.04 miles away

An English Riviera UNESCO Global Geopark Key Site. Housed in the old Brixham police…

0.09 miles away
Radiating a warmth of its own, Brixham nestles in the rugged cliffs at the southern end…

0.19 miles away

Dartmouth Day Cruise - an exciting day adventure to the lovely historic Port of Dartmouth…

0.19 miles away

Brixham Art and Craft Market is held every Saturday from Easter to the end of October,…

0.21 miles away

The Golden Hind at Brixham, Devon is a full sized replica of one of the most iconic ships…

0.21 miles away

A boat trip is the perfect way to experience the English Riviera from one of its best…

0.22 miles away

Wizz Kidz is certain that the massive 5,000 sq feet venue full of light and carefully…

0.38 miles away

Brixham Harbour is located on the southern side of Tor Bay and boasts one of the largest…

0.4 miles away

The Brixham Battery Heritage Group was founded in 1999 by the late Ron Coleman, we are a…

0.42 miles away

Brixham Marina is in the heart of Brixham, a picturesque Devon town in the wider area of…

0.44 miles away

Not only does Battery Gardens boast one of the most panoramic views in the bay, it is…

0.48 miles away

Fishcombe Cove is ideal if you want to escape the crowds. Situated along the coast from…

0.57 miles away
Previous
Next