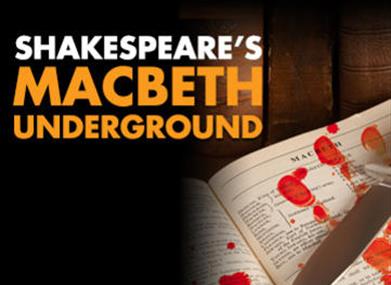 Opening Times
06/11/2017

(6 Nov 2017 - 18 Nov 2017)

Day
Times
Monday

19:00

19:00

Tuesday

19:00

19:00

Wednesday

19:00

19:00

Thursday

19:00

19:00

Friday

19:00

19:00

Saturday

19:00

19:00

Sunday

19:00

19:00
Shakespeare Underground

(5 Nov 2018 - 17 Nov 2018)

Day
Times
Address/Location
Kents Cavern Prehistoric Caves
Cavern House
Ilsham Road
Torquay
Devon
TQ1 2JF
Contact
Shakespeare Underground.
Butterfly Theatre are back! This year experience Shakespeare's sinister tragedy Macbeth, in the underground world of Kents Cavern.
A thrilling hour long, underground production of Shakespeare's Macbeth in the extraordinary setting of Kents Cavern. Witches haunt the ancient rocks; evil lurks in the shadows and seduce a king in his lust for power. The audience enters the belly of the earth for a truly unique, up close experience of one of Shakespeare's most powerful plays.
Ticket Information
Book online at www.kents-cavern.co.uk
Adult - £16
Child (8-15) - £16
Not suitable for children under the age of 8.
What's Nearby
Kents Cavern is one of Europe's top prehistoric Stone Age caves with an extensive labyrinth of...

0.12 miles away

Between Torquay and Babbacombe sits Anstey's Cove. Quiet, peaceful and incredibly beautiful, this...

0.41 miles away

A mile from Torquay harbour and in a stunning location at the bottom of a row of imposing cliffs....

0.68 miles away

The Rainbow Fun House offers 13,000 Sq FT of ACTION PACKED ADVENTURE! Including the Race Track, the...

0.69 miles away
Travel back through 400 million years of time at Torquay Museum – a hands-on family-friendly...

0.71 miles away

The Little Theatre promises to be a great night out with something to entertain everyone, from...

0.8 miles away

Take time to pamper yourself in our Yon-Ka Spa treatment room, which offers deluxe massages,...

0.82 miles away

Variety shows, cabaret, stand-up, and concerts - all here at the brilliant Babbacombe Theatre.

0.89 miles away

Explore the English Riviera on the open-top bus sight seeing tour! It's the perfect way to relax...

0.98 miles away

The Torquay Land Train is a fun way to get around Torquay for all ages! Further information can be...

0.98 miles away

The Spa Room at the Cary Arms in Devon offers guests the chance for total relaxation and indulgence...

0.98 miles away

East of Torquay lies Babbacombe Beach. A beautiful arc of shingle beach, this unspoilt coastline is...

0.98 miles away

Torquay's Dinosaur World is an fun interactive indoor exhibition that brings dinosaurs and their...

1 miles away

Dartmouth Day Cruise - an exciting day adventure to the lovely historic Port of Dartmouth. Cruising...

1 miles away

Visiting attractions on the English Riviera is now easier than ever with so many focusing on making...

1 miles away

Coming on holiday and want to save money on Car Parking order a Torbay Council weekly or 3 day car...

1 miles away
Previous
Next
Free advice from travellers on
English Riviera hotels
for a great holiday on the
English Riviera