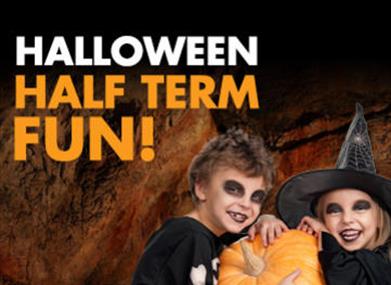 Opening Times
Halloween Half Term Fun
(21 Oct 2017 - 31 Oct 2017)
Address/Location
Kents Cavern
Ilsham Road
Torquay
Devon
TQ1 2JF
Contact
There's lots to do this October Half Term at Kents Cavern with cave tours, the Witch's Hat joke trail, Spooky Dig and the Underground Pumpkin hunt. No need to book - just turn up!
Date: 21st to 31st October
Join us this half term for some spooooky activities....
We've got regular tours throughout the day, so there's no need to book. Just turn up and collect your activity sheets! Head on a cave tour to take part in our underground pumkpin hunt, count the number of pumpkins correctly and you'll receive a prize.
Other activities include the witches hat joke trail and spooky dig.
What's Nearby
Kents Cavern is one of Europe's top prehistoric Stone Age caves with an extensive labyrinth of...

0.12 miles away

Between Torquay and Babbacombe sits Anstey's Cove. Quiet, peaceful and incredibly beautiful, this...

0.41 miles away

A mile from Torquay harbour and in a stunning location at the bottom of a row of imposing cliffs....

0.68 miles away

The Rainbow Fun House offers 13,000 Sq FT of ACTION PACKED ADVENTURE! Including the Race Track, the...

0.69 miles away
Travel back through 400 million years of time at Torquay Museum – a hands-on family-friendly...

0.71 miles away

The Little Theatre promises to be a great night out with something to entertain everyone, from...

0.8 miles away

Take time to pamper yourself in our Yon-Ka Spa treatment room, which offers deluxe massages,...

0.82 miles away

Variety shows, cabaret, stand-up, and concerts - all here at the brilliant Babbacombe Theatre.

0.89 miles away

Explore the English Riviera on the open-top bus sight seeing tour! It's the perfect way to relax...

0.98 miles away

The Torquay Land Train is a fun way to get around Torquay for all ages! Further information can be...

0.98 miles away

The Spa Room at the Cary Arms in Devon offers guests the chance for total relaxation and indulgence...

0.98 miles away

East of Torquay lies Babbacombe Beach. A beautiful arc of shingle beach, this unspoilt coastline is...

0.98 miles away

Torquay's Dinosaur World is an fun interactive indoor exhibition that brings dinosaurs and their...

1 miles away

Dartmouth Day Cruise - an exciting day adventure to the lovely historic Port of Dartmouth. Cruising...

1 miles away

Visiting attractions on the English Riviera is now easier than ever with so many focusing on making...

1 miles away

Coming on holiday and want to save money on Car Parking order a Torbay Council weekly or 3 day car...

1 miles away
Previous
Next
Free advice from travellers on
English Riviera hotels
for a great holiday on the
English Riviera