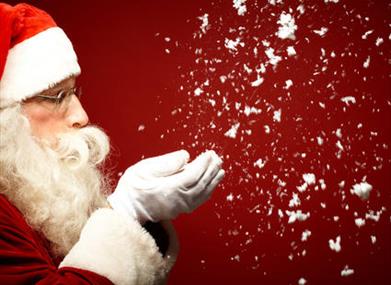 Opening Times
Festive Weekend
(9 Dec 2017 - 10 Dec 2017)
Address/Location
Living Coasts
Beacon Quay
Torquay
Devon
TQ1 2BG
Contact
Join Living Coasts for a weekend of festivities!
Follow the signs to meet our happy elves, take an 'Eflie Selfie' and receive a prize*
Meet Batman and Captain America plus Anna and Elsa from Frozen.
(Saturday 9th, 12pm-2pm - Anna and Elsa. Sunday 10th, 12pm-2pm - Batman & Captain America)
Watch Santa's elves feed our penguins daily at 10.30 a.m. and 2.30 p.m.
Get your face painted, watch special animal enrichment and more!
Listen to Carol singing and enjoy festive food and drink in our Terrace Café
*£2.50 per trail, available while stocks last. Standard Living Coasts admission applies.
Kindly sponsored by Union Square Shopping Centre
Ticket Information
£5.00 per child. Non-members will have to pay standard Living Coasts admission.
What's Nearby
Coming on holiday and want to save money on Car Parking order a Torbay Council weekly or 3 day car...

0.25 miles away

Who is your favourite Miss Marple? Margaret Rutherford? Joan Hickson? Or more recently the talented...

0.25 miles away

Christie's other much-loved detective, the eccentric Belgian Hercule Poirot, has also become a...

0.25 miles away

Methodist & United Reformed Churches within the English Riviera
Service times are available from...

0.25 miles away

Pentecostal Churches within the English Riviera
Service times are available from the English...

0.25 miles away

Dartmouth Day Cruise - an exciting day adventure to the lovely historic Port of Dartmouth. Cruising...

0.25 miles away

Vineyards in and around the English Riviera

0.25 miles away

List of Breweries in and around the English Riviera.

0.25 miles away

A list of Cider Farms in and around the English Riviera.

0.25 miles away

Roman Catholic Churches within the English Riviera
Service times are available from the English...

0.25 miles away

Church of England Churches within the English Riviera
Service Times are available from the English...

0.25 miles away

Visiting attractions on the English Riviera is now easier than ever with so many focusing on making...

0.25 miles away
Previous
Next
Free advice from travellers on
English Riviera hotels
for a great holiday on the
English Riviera