Display of Objects from the Titanic and the Olympic
Torquay Museum
,
529 Babbacombe Road
,
Torquay
,
Devon
,
TQ1 1HG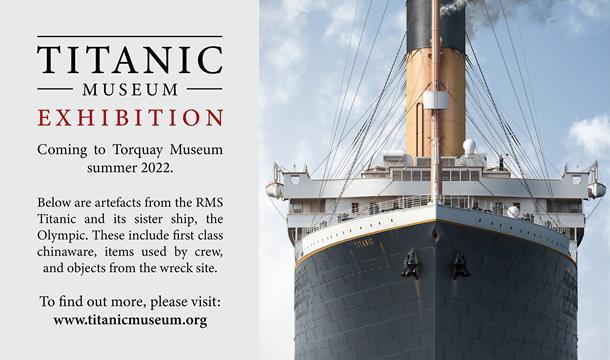 Event Dates
Book Tickets
Accommodation
About
Awards
Reviews
Contact
What's Nearby
Opening Dates and Times
Display of Objects from the Titanic and the Olympic

(2 Apr 2022 - 4 June 2022)

Day
Times
Monday

Closed

Tuesday - Thursday

10:00

- 16:00

Friday

Closed

Saturday

10:00

- 16:00

Sunday

Closed
Book Tickets
About
The 15th April 2022 marks the 110th anniversary of the most famous maritime disaster of all time, the sinking of the Titanic. The loss of life from the sinking of the unsinkable ship at over 1,500 souls had repercussions across the country in hundreds of cities, towns and villages. Torquay Museum was part of this national mourning as Hester Forbes Julian, daughter of William Pengelly, lost her husband Henry. A small number of items from the ship and its crew are on temporary display in the Explorer's Gallery at The Museum. This small display in our Explorers Gallery is a taster for a special exhibition which will be held at the Museum this summer.
TripAdvisor
Display of Objects from the Titanic and the Olympic
What's Nearby
There are not many activities which the younger kids, grandparents, teens and adults can…

0.21 miles away
Explore the English Riviera on the open-top bus sight seeing tour! It's the perfect way…

0.27 miles away

UNDER NEW OWNERSHIP 

Torquay's Dinosaur World is an fun interactive indoor exhibition…

0.29 miles away

Visiting attractions on the English Riviera is now easier than ever with so many focusing…

0.29 miles away

Escape Rooms have arrived in Torquay!

On your next visit to The English Riviera be sure…

0.3 miles away

The Real Crime Museum is a fascinating attraction based on the harbour in Torquay. If you…

0.3 miles away

Are you bringing a group to the English Riviera to experience all it has to offer? Or are…

0.33 miles away

A boat trip is the perfect way to experience the English Riviera from one of its best…

0.33 miles away

Wherever you go on the English Riviera, you'll find plaques that recognise some of the…

0.33 miles away

Torquay has been one of the UK's top holiday destinations since Victorian Times when the…

0.33 miles away

The English Riviera has 22 miles of coastline and a UNESCO Global Geopark, all of which…

0.33 miles away

Red House Mysteries are Devon's foremost interactive game and escape room company. Our…

0.33 miles away
Previous
Next