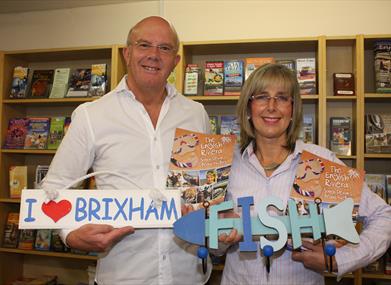 Opening Times
Brixham Visitor Information Point

(1 Jan 2016 - 31 Dec 2017)

Day
Times
Monday

10:00

17:00

*

Tuesday

10:00

17:00

*

Wednesday

10:00

17:00

*

Thursday

10:00

17:00

*

Friday

10:00

17:00

*

Saturday

10:00

17:00

*

Sunday

10:00

17:00

*
Dates and times marked with a '*' are provisional and may be subject to change
Address/Location
Hobb Nobs Gift Shop
The Quay
Brixham
Devon
TQ5 8AW
Contact
BRIXHAM VISITOR INFORMATION POINT
Brixham Visitor Information Point is located on Brixham Harbourside within Hobb Nobs Gift Shop. The Information Point provides a comprehensive information service for all its customers.
The Information Point has full wheelchair access.
There is an abundance of guides, leaflets and maps available, alongside the Attractions Passport which is a money-saving discount booklet for many of the English Riviera's attractions.
So why not call in and discover what the bustling fishing town of Brixham has to offer and make the most of your time on the English Riviera.

What's Nearby
Blackbeard's Trail is described as a lovely, moderate, circular walk of about 2.5 miles,...

0.04 miles away

Dartmouth Day Cruise - an exciting day adventure to the lovely historic Port of Dartmouth. Cruising...

0.05 miles away

Brixham Harbour is located on the southern side of Tor Bay and boasts one of the largest fishing...

0.2 miles away

Brixham Theatre now presents over fifty performances a year – community shows and hired in...

0.24 miles away

Housed in the old Brixham police station, Brixham Heritage Museum provides an intriguing place to...

0.28 miles away

The Brixham Battery Heritage Group was founded in 1999 by the late Ron Coleman, we are a group of...

0.4 miles away

Not only does Battery Gardens boast one of the most panoramic views in the bay, it is also a...

0.46 miles away

Protecting Brixham Harbour is the massive structure of Brixham Breakwater, stretching for half a...

0.49 miles away

Fishcombe Cove is ideal if you want to escape the crowds. Situated along the coast from Brixham,...

0.54 miles away

Close to the mouth of Brixham harbour is Breakwater Beach, one of the cleanest beaches on the...

0.55 miles away

Set at the Northfields Industrial Estate, in Brixham, Devon, we offer a spacious, light and clean...

0.55 miles away

Churston Cove is one of the many excellent beaches to be found on the English Riviera, South...

0.64 miles away
Previous
Next
Free advice from travellers on
English Riviera hotels
for a great holiday on the
English Riviera