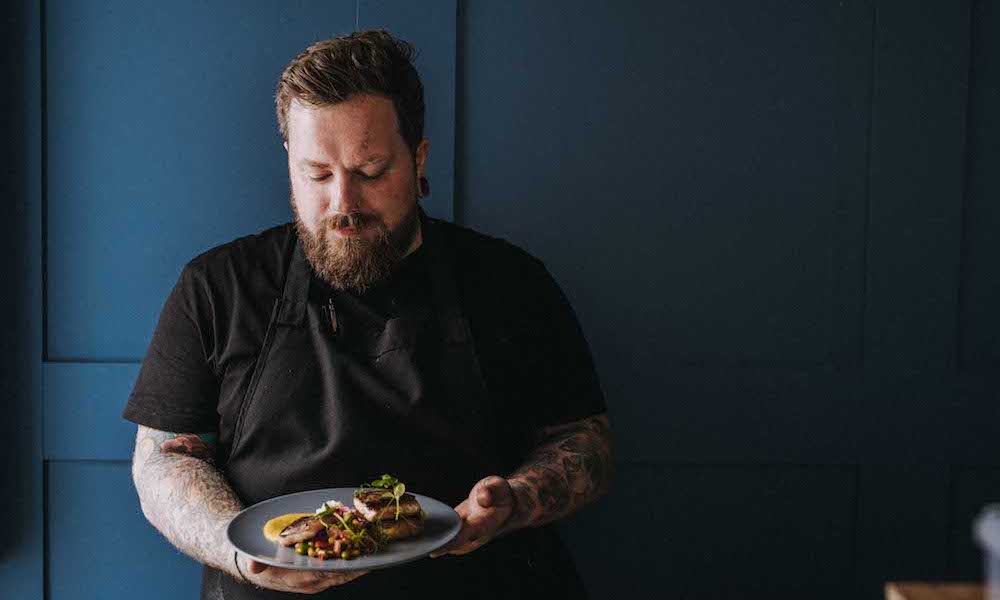 England's Seafood FEAST 2019 take place between 20 September to 6 October. Check out all the events taking place and start planning your sefood lovers trip.
Meet Ashley Hamilton, the man behind the tattoos and two of Brixham's newest and coolest eateries. He's busy running The Curious Kitchen and their sister venue MORE from the Curious Kitchen. We went to meet Ash ahead of their involvement with England's Seafood FEAST, a new two-week celebration of locally caught seafood.
Here's what he had to say for himself...
Becoming a chef in Brixham
I grew up locally with four brothers. When I was 12 I started working in a pub, where my two older brothers had worked before me, helping to make sandwiches . They did further training but didn't stick with it, but I caught the bug. When I was 16 I got a job with the agency that caters the Royal Navy and did this for nearly five years. I've always been determined not to move around too much as I pride myself on being loyal and hardworking but in this industry, recognising the importance of a wide variety of influences, I have worked for several restaurants to gather experience in Torbay and Teignbridge. In 2016 I was part of the team that opened 'The Curious Kitchen' in Brixham, with our second venture 'MORE from the Curious Kitchen' opening in 2017.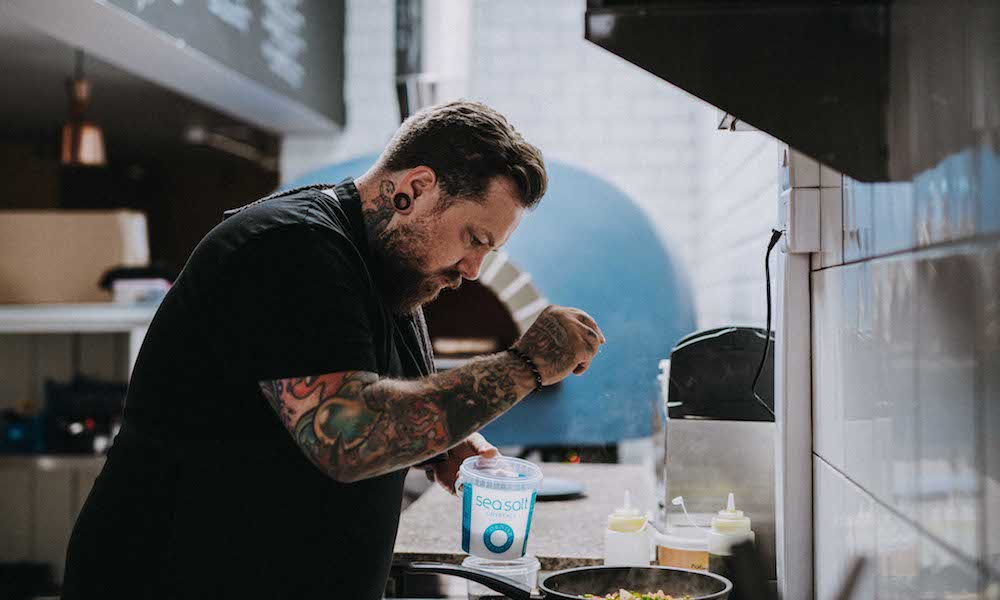 A new restaurant in Brixham
I am currently executive chef for The Curious Kitchen and MORE. They are in close proximity so we offer something different in each. The Curious Kitchen has a modern brunch menu, great coffee and sweet treats including cakes, freak shakes and every weekend a new selection of gourmet donuts. Every month we run a popular 'Supper Club' with a focus on fine dining without the nonsense, plus it's BYOB! At MORE we serve fire-baked sour dough pizzas, street food inspired specials and salads alongside cocktails and local craft beer and ciders.
Our food isn't traditionally associated with a seaside town, but our ethos is that if you make great food people will come. With both outfits, everything wherever possible, is locally sourced, made in-house and adapted to suit as many dietary needs as we can.
Chef recommendations on the English Riviera
It's a great time to be a chef with platforms like Instagram and YouTube providing inspiration from all around the world (I'm a particular fan of the 'Sorted Food' Channel).
As a chef I don't get out for dinner much, i have a few particular haunts. My favourite local venues are On The Rocks Torquay (their smoke house & grill just down the road in Brixham is great too), I love burgers so visit Meat 59 and Fat Cow Burger in Torquay and I head to Calypso in Torquay for my coffee fix. If I fancy a bit of posh I really enjoy The Elephant by Simon Hulstone too.
We are running two events for the Seafood FEAST: The Curious Kitchen will be extending the Supper Club to run over two weekends which will comprise a six course, local catch, tasting menu for £35/head (BYOB) and; MORE will be offering two seafood pizzas and bottle of fizz for £25.
And when you're not next to the pizza oven?
If I'm not at work I'm usually with my wife and two beautiful daughters and friends. I don't switch off easily so it usually involves cooking for them, although when I'm not working I'll have an IPA (or two) whilst doing it.
Brixham seafood recipe
In between restaurants and in between servings, we managed to get Ash to cook us some locally caught seafood. England's Seafood FEAST is centred around high quality, locally caught, fresh seafood which is landed at Brixham Harbour.
Ash opted for a tasty sea trout dish and if you can't make the Seafood FEAST and would like to try it then here is his awesome recipe!
Crispy sea trout, corn puree, chilli, succotash and yogurt foam
Ingredients
4 fillets of sea trout (about 200g each)

350g cooked sweetcorn

100g salted butter

200ml double cream

100ml veg stock

100g blanched shelled broad beans

100g deseeded and diced tomato

100g diced blanched carrot

100g spring onions sliced

1 finely diced red chilli

100ml natural yogurt

Pea shoots

Herb oil
Method
Yogurt Foam
First prep the foam

Warm the natural yogurt on a low heat with 100ml cream and 25ml of water

Bring to a simmer and remove from the heat. Chill until needed
Sweetcorn puree
Bring 200g sweet corn to the boil with the veg stock and remaining cream

Cook until almost all the liquid has evaporated and blend in high power blender with 50g butter

Pass through a sieve to remove remaining skin and season to taste
Sea trout
Score the skin of the trout and season

Heat a pan and then add a tablespoon of rapeseed oil

Gently lay the trout in the pan skin side down taking care not to splash yourself. I add a gentle weight to the top of the fish for the first 2 minutes of cooking to keep the fish flat

Turn the heat down to low and gently cook for 4-5 minutes until almost the whole fish has cooked through to the top, bar a bit of raw flesh at the top. Flip the fish and turn back up the heat to high adding 25g butter.

Use the foaming butter to baste the fish for 1 minute. Remove fish to a paper towel to drain and rest.
Succotash
Add the beans, remaining corn, spring onions, tomato, carrot, chilli and remaining butter to a pan

Warm through seasoning to taste (it should be quite hot from chilli, the foam will mellow this out)
Finishing
Pour the foam mix into a cream gun and charge

Warm through the puree and succotash

Puree on the plate, followed by the succotash

Top with the trout - serve with a generous helping of the foam and finish with some pea shoots and a drizzle of herb oil
Related
0 Comments