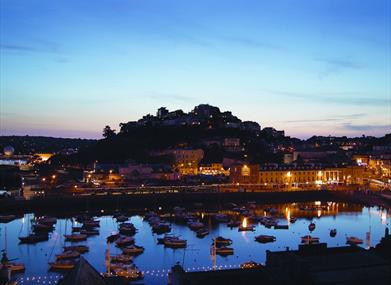 Agatha Christie was born in Torquay in 1890 and it's easy to see how the town inspired her writing. It features - often under a different identity - in numerous novels identified on the Agatha Christie Literary Trail.

Torquay is thinly disguised as St Loo in Peril at End House, Hollowquay in Postern of Fate, and Cullenquay in Mrs McGinty's Dead. The Murder at the Vicarage (the first appearance of Miss Marple in a full length novel) is said to have been inspired by parts of Torquay as well.

During her time working in the dispensary at Torquay Town Hall during World War I she picked up her knowledge of poisons and potions, which she used to good effect in her first ever novel, The Mysterious Affair at Styles, published in 1920.

The town also boasts numerous associations with the author's life and times, many of which you'll find on this website.


What's Nearby
Explore 800 years of history beautifully presented heritage rooms, galleries, art exhibitions,...

0.72 miles away

Agatha Christie was great friends with the Lucy family, who lived in Hesketh Crescent during her...

0.73 miles away

Do not touch! is the warning for all visitors to the Potent Plants Garden at Torre Abbey. Discover...

0.74 miles away

Drift back into the style and opulence of the Jazz Age as you retrace the steps of the world's...

0.74 miles away

Agatha Christie's honeymoon hotel.

0.75 miles away

Corbyn Sands is one of Torquay's closest beaches, and lies just south of Torre Abbey Sands. It's a...

0.85 miles away

All Saints Church in Torre, Torquay, was designed by John Pearson and built with money donated by...

0.9 miles away

Kents Cavern is one of Europe's top prehistoric Stone Age caves with an extensive labyrinth of...

1.08 miles away

A Blue Plaque on Barton Road, Torquay, marks the spot of Ashfield, Agatha Christie's childhood home.

1.23 miles away

Between Torquay and Babbacombe sits Anstey's Cove. Quiet, peaceful and incredibly beautiful, this...

1.36 miles away

Built in 1926, the Babbacombe Cliff Railway has shuttled hundreds of thousands of holiday makers to...

1.44 miles away

Barton Cricket Club on Cricketfield Road was where Agatha Christie's father Frederick once played...

1.49 miles away
Previous
Next
Free advice from travellers on
English Riviera hotels
for a great holiday on the
English Riviera