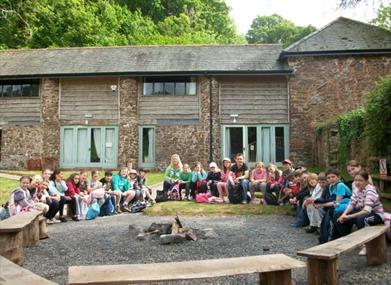 Opening Times
* Available to hire to private groups
Address/Location
Torbay Coast & Countryside Trust
Totnes Road
Torquay
Devon
TQ2 6XD

Contact
Warren Barn is a converted linhay and threshing barn located in the grounds of Cockington
Country Park close to Torquay. The camping barn is managed by Torbay Coast and
Countryside Trust, a charity which looks after 1800 acres of land across Torbay in South
Devon. The barn lies in a secluded wooded valley and is surrounded by 450 acres of country
park, and is an ideal base for groups looking to explore the beautiful South Devon coast and
countryside. The barn is in walking distance of the picturesque historic village of Cockington,
which has a popular pub 'The Drum Inn', and Cockington Court Manor House.
Warren Barn sleeps up to 36 in 2 dormitories with bunk beds and has separate male and
female toilet/shower facilities. There are 2 separate additional bedrooms, one of which is
downstairs and can be used as a disabled bedroom with an attached toilet/shower. The
ground floor is wheelchair friendly but the upstairs is not fully accessible due to the nature
of the building.
The barn has a fully equipped communal kitchen and dining area downstairs with a wood
burner and there is also a small lounge area upstairs. There is a large courtyard at the
front of the building with a BBQ area and clay pizza oven. The barn has also recently been
installed with a new Wood Pellet boiler.
Sites to visit nearby include Occombe Organic Farm run by Torbay Coast and Countryside
Trust. The farm has a fantastic cafe, farm shop, nature trail and Cookery school. The Trust
can also run activities for you to enjoy during your stay such as canoeing, coasteering and
fishing trips. For more information visit www.countryside-trust.org.uk.
Accommodation costs from £200.00 per night. There is an extra charge for activities.
For more information visit http://www.warrenbarn.org.uk/index.htm or email
lisa@countryside-trust.org.uk.

What's Nearby
We are a local, independent charity dedicated to looking after some of Torbay's most important...

0.68 miles away

All Saints Church in Torre, Torquay, was designed by John Pearson and built with money donated by...

0.83 miles away

The Beauty Clinic at The Grand offers a wide variety of treatments, in addition to cutting edge...

0.96 miles away

The Grand Hotel offers an excellent standard of accommodation with breath-taking sea views....

0.97 miles away

Step through the ancient doors of Torre Abbey and uncover the story of one of the south west's most...

0.98 miles away

Drift back into the style and opulence of the Jazz Age as you retrace the steps of the world's...

1 miles away

If you are looking for fun and exercise for the whole family, be sure to visit Waves Leisure Pool...

1.04 miles away

A Blue Plaque on Barton Road, Torquay, marks the spot of Ashfield, Agatha Christie's childhood home.

1.04 miles away

Abbey Park Golf, Tennis & Bowls Centre is situated in a beautiful, picturesque seafront location in...

1.12 miles away

This delectable beach is part of the English Riviera and it lives up to its name with its stunning...

1.14 miles away

Do not touch! is the warning for all visitors to the Potent Plants Garden at Torre Abbey. Discover...

1.16 miles away

18 Hole Jungle themed adventure golf course. Wind your way through the jungle using your golf skill...

1.17 miles away
Previous
Next