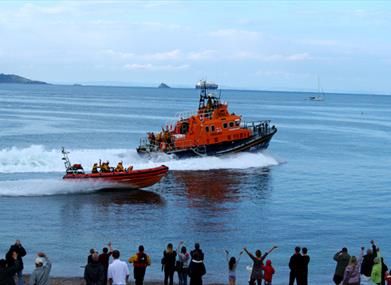 Opening Times
Torbay Lifeboat Week 2013
(05/08/2013 - 11/08/2013)
Address/Location
Torbay Lifeboat Station
Berry Head Road
Brixham
Devon
TQ5 9AF

Contact
Brixham Lifeboat and Station become the focus of interest in this annual event.
Raising money for a charity which is close to Brixham's heart, this fun packed week includes such events as Sailing Races, Angling Competitions and a chance to view Torbay's Lifeboat station and lifeboat and the ever popular Sea Safety Display which is a major spectacle not to be missed.
Torbay Lifeboat Event Guide - August 2013
A number of events have been organised around the Torbay Lifeboat - there will be elements of 'fun, awareness & fundraising' in support of the Nationally recognised Charity the RNLI - whose aim is saving lives at sea.
Walk/Go the Extra Mile - Every Day commencing Mon 5 Aug - Walk the Brixham Breakwater from the land to the Harbour Light and return - just over a mile. Make a donation and sign the wall!
SAR Demonstration - Sun 11 Aug 4 pm - Search and Rescue Demonstration - Operational Conditions Permitting. We hope to be joined by a Rescue Helicopter and possibly our Teignmouth Flank Station
Torbay Lifeboat Station - Visit the Station and Lifeboats - Two Historic Lifeboats are expected for the weekend 9-11 August. Visit the 'Kiosk' to purchase a quality RNLI Souvenirs.
Yacht Race Viewing Point - The Annual RNLI (Junior) Yacht Race may be viewed from here
Coastal Sea Safety - Fri 9, Sat 10 and Sun 11 Aug - FREE Life-jacket serviceability check and advice from the RNLI Torbay Coastal Sea Safety Team.
'Joey the Lips' - Fri 9 Aug - Evening - Ticket Only Event - 'Joey the Lips' 10 Piece Band playing in the open. See web site for booking details
Yacht Race - Another viewing point for the Annual RNLI (Junior) yacht Race
RNLI Flag Day - Tue 6 Aug - RNLI Street Collection
Ernie Lister Bar - Wed 7 Aug - Quiz Night & Thu 7 Aug - Folk Night
Poopdeck Lunch - Book in advance for the Poopdeck Lunch
RNLI/BYC Junior Racing - Fri 9 Aug - The junior Racing Challenge will occur within view of the Harbour Entrance. See the suggested vantage points
Angling Competition - Great Prizes - sponsored by Brixham's Bait & Tackle
Family Fun Day - Small entry fee - many activities planned
Firework Display - Sun 11 Aug - 9pm - A Grand Finale firework display sponsored by Inter-Line Building Supplies
Canle Lit Walk - Following the Fireworks on Sunday Evening let's see if we can create a long candle lit trail - candles will be available
Ron's Big BBQ - Will be up and running before the SAR on Sunday afternoon until the end of the Fireworks in the evening - great food!
Torbay Lifeboat - Will be open to view on Fri 9, Sat 10 & Sun 11 Aug. Viewing will be by guided tours starting at approximately 20 minute intervals and lasting 40 minutes. Note visitors must be able to walk/stand without assistance.
Brixham Yacht Club - Fri 9 Aug - RNLI/BYC Junior Yacht Race
RNLI Shop - The RNLI Shop is open Monday to Saturday all year through from 10 am - great souvenirs and Lifeboat Tea available here.
Events can be subject to change
What's Nearby
Vigilance is a restored 78 foot heritage sailing ketch based in Brixham, Devon, England. She is...

0.03 miles away

Brixham Harbour is located on the southern side of Tor Bay and boasts one of the largest fishing...

0.06 miles away

Brixham Tourism Partnership arrange Fish Market tours at various times during the year. These tours...

0.19 miles away


 

The Smuggler's Story is a brand new visitor attraction in the heart of Brixham's gorgeous...

0.2 miles away
Re-live Drake's incredible world voyage of 1577 aboard this full sized replica, moored in Brixham...

0.22 miles away

Brixham Art and Craft Market is held every Saturday from Easter to the end of October, under the...

0.22 miles away

A boat trip is the perfect way to experience the English Riviera from one of its best vantage...

0.22 miles away

Artists Corner can be found on the slipway, close to the William of Orange Statue from where, for...

0.23 miles away

Yesteryears is an old time costume photography studio in Brixham, where you and your family can...

0.24 miles away

Blackbeard's Trail is described as a lovely, moderate, circular walk of about 2.5 miles,...

0.24 miles away

Greenway Ferry & Pleasure Cruises offer a wide range of family trips which start in the English...

0.25 miles away

Protecting Brixham Harbour is the massive structure of Brixham Breakwater, stretching for half a...

0.25 miles away

Shoalstone Sea Water Open Air Swimming Pool and picnic area
The pool is patrolled and monitored by...

0.25 miles away

Radiating a warmth of its own, Brixham nestles in the rugged cliffs at the southern end of the...

0.26 miles away

The Pilgrim is the oldest existing Brixham built and rigged sailing trawler. After a project...

0.29 miles away

Breakwater Beach, one of the cleanest and safest beaches on the English Riviera, South Devon's...

0.32 miles away
Previous
Next