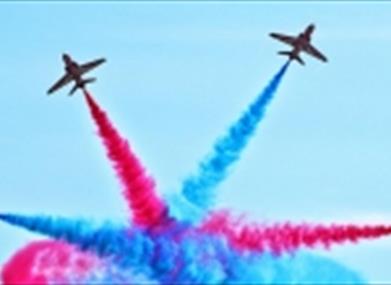 Opening Times
Red Arrows - Dawlish
(23/08/2014)
Red Arrows - Torquay
(24/08/2014)
Red Arrows - Dartmouth
(29/08/2014)
Address/Location
Beacon Quay
Torquay
Devon
TQ1 2BG
Contact
THE Red Arrows are coming back to Torquay. The display team will return on Sunday August 24 (6 pm TBC) during the busy bank holiday weekend of Torbay Regatta Week.
Their return comes after initial disappointment that the Arrows could not fly on the original date - Wednesday August 27, because of essential maintenance work.
There also will be displays at Dawlish on 23rd August (time to be confirmed) and Dartmouth on 29th August, 2014 6 pm.
What's Nearby
Beacon Cove is a haven away from the main beach of Torquay and is close to Living Coasts, the...

0.04 miles away

Come and visit the English Riviera Geopark! 400 Million years of unique geology all within the 22...

0.05 miles away

Torquay Harbour has close links with the leisure and tourism industry acting as a base for many...

0.07 miles away

Living Coasts features a range of fascinating coastal creatures from loud and loveable penguins to...

0.1 miles away
Relax, unwind and let us pamper you in the tranquil surroundings of the Beauty Rooms at Torquay...

0.12 miles away

The hotel provided the inspiration for the Majestic Hotel in two of Christie's novels - Peril at...

0.14 miles away

Torquay's Dinosaur World is an exciting exhibition that brings dinosaurs and their worlds to life! ...

0.23 miles away

Visiting attractions on the English Riviera is now easier than ever with so many focusing on making...

0.25 miles away

Coming on holiday and want to save money on Car Parking order a Torbay Council weekly or 3 day car...

0.25 miles away

Vineyards in and around the English Riviera

0.25 miles away

A list of Cider Farms in and around the English Riviera.

0.25 miles away

List of Breweries in and around the English Riviera.

0.25 miles away

Roman Catholic Churches within the English Riviera
Service times are available from the English...

0.25 miles away

Methodist & United Reformed Churches within the English Riviera
Service times are available from...

0.25 miles away

Church of England Churches within the English Riviera
Service Times are available from the English...

0.25 miles away

Pentecostal Churches within the English Riviera
Service times are available from the English...

0.25 miles away
Previous
Next
Free advice from travellers on
English Riviera hotels
for a great holiday on the
English Riviera