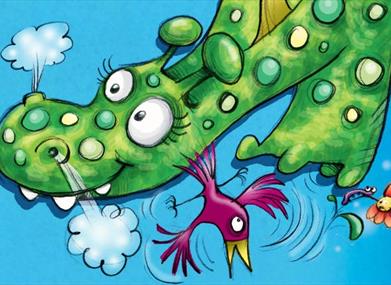 Opening Times
Sorry, this event has passed.
Address/Location
Palace Theatre
Palace Avenue
Paignton
Devon
TQ3 3HF
Contact
Dotty is a baby fire dragon. She lives in a dusty old castle with her grumpy dad, Mr Dragon. She loves to watch the children playing in the village below, and wishes she could play with them, too!
One day Dotty has a brilliant idea – she will fly down to the village and say hello! After all, everybody loves surprises, don't they? But will Dotty make new friends, or will the village folk chase her back home again?
Told with puppetry, song and high-energy storytelling, this fantastic family show is the perfect treat little explorers and their grown-ups. There are lots of laughs and plenty of surprises, and there's even a fire-breathing dragon!
Little people aged 3 + will love this funny, heart-warming tale of true friendship!
What's Nearby
Famous for its long, sandy beaches, paddler-friendly waters and a colourful, bustling pier,...

0.45 miles away

Great free attraction on Paignton seafront.
The park is designed around the English Riviera's...

0.45 miles away

Experience the adventure of Pirates Bay Adventure Golf, a new landscaped, floodlit, 18 hole...

0.46 miles away

Paignton Harbour nestles on the western shores of Tor Bay, situated midway between Torquay and...

0.52 miles away

Paignton Beach offers the ultimate family day out at the seaside. With a sandy beach, safe swimming...

0.57 miles away

Situated at the centre of Paignton seafront. A great "All Weather" family attraction with...

0.59 miles away

Dartmoor Scenic Tours operates from the English Riviera. we pick you up from your hotel for a day...

0.62 miles away

0.64 miles away

If you enjoy a leisurely activity then why not take to the water for a relaxing cruise around the...

0.66 miles away

The Seashore Centre is a great base from which to explore Torbay's stunning marine environment and...

0.7 miles away

Paignton Zoo is one of Britain's top zoos, home to some of the planet's rarest and most amazing...

0.75 miles away

Enjoy the wettest and wildest fun at the UK's largest outdoor water park. Choose from 8 different...

0.79 miles away
Previous
Next
Free advice from travellers on
English Riviera hotels
for a great holiday on the
English Riviera