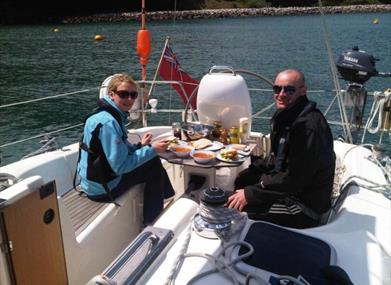 Opening Times
2013 - opening
(01/01/2013 - 31/12/2013)
Address/Location
Fore Street
Brixham
Devon
TQ5 8AA

Contact
We aim to provide a quality sailing experience to suit your individual needs and budget. Good quality at a competitive price. We specialize in giving you a sailing experience that is as exciting or relaxed as you wish.
Let us take you on a relaxing cruise visiting the places you choose, for as long as you choose. We, help you build your personal schedule. Then you sit back, relax, take in the sun and enjoy a cool drink whilst we set sail to your chosen destination. Or you can take the helm and catch the breeze for an exhilarating sail before heading off to a bustling marina for an evening on the town. Tuition optional.
Clean bedding provided (no sleeping bags required).
Only best quality food available, where possible locally produced.
Candidates completing courses that wish to take future courses qualify for 10% loyalty discount on future bookings

What's Nearby
The Brixham Arts and Theatre Society (BATS) was formed in 2008 by a group of like minded...

0.12 miles away

Yesteryears is an old time costume photography studio in Brixham, where you and your family can...

0.16 miles away

Artists Corner can be found on the slipway, close to the William of Orange Statue from where, for...

0.18 miles away

Blackbeard's Trail is described as a lovely, moderate, circular walk of about 2.5 miles,...

0.2 miles away
Greenway Ferry & Pleasure Cruises offer a wide range of family trips which start in the English...

0.2 miles away


 

The Smuggler's Story is a brand new visitor attraction in the heart of Brixham's gorgeous...

0.2 miles away

Re-live Drake's incredible world voyage of 1577 aboard this full sized replica, moored in Brixham...

0.23 miles away

Radiating a warmth of its own, Brixham nestles in the rugged cliffs at the southern end of the...

0.23 miles away

Brixham Art and Craft Market is held every Saturday from Easter to the end of October, under the...

0.23 miles away

A boat trip is the perfect way to experience the English Riviera from one of its best vantage...

0.25 miles away

Brixham Tourism Partnership arrange Fish Market tours at various times during the year. These tours...

0.27 miles away

Brixham Harbour is located on the southern side of Tor Bay and boasts one of the largest fishing...

0.39 miles away

Vigilance is a restored 78 foot heritage sailing ketch based in Brixham, Devon, England. She is...

0.41 miles away

Set at the Northfields Industrial Estate, in Brixham, Devon, we offer a spacious, light and clean...

0.5 miles away

Not only does Battery Gardens boast one of the most panoramic views in the bay, it is also a...

0.6 miles away

Protecting Brixham Harbour is the massive structure of Brixham Breakwater, stretching for half a...

0.62 miles away
Previous
Next