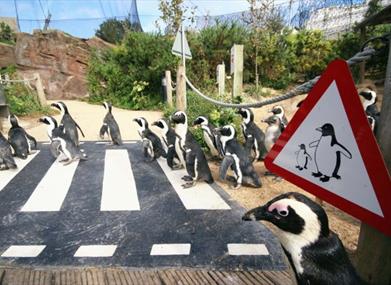 Opening Times
Attraction Accessibility on the English Riviera
(01/01/2013 - 31/12/2013)
* Please call to check opening times.
Address/Location
Vaughan Parade
Torquay
Devon
TQ2 5JG

Contact
Visiting attractions on the English Riviera is now easier than ever with so many focusing on making access a priority so that a day out on the English Riviera is a day out to be enjoyed by all.
Listed below are just some of the attraction that are disabled friendly, please call the Visitor Information Service for more information or advice on where to visit.
Living Coast: Gentle Slope, Accessible Toilets, Car Park with disabled parking
Torquay Museum: Accessible for visitors with mobility problems, some gallery's have Braille labels, accessible toilets.
Paignton Zoo: Guide Dogs accepted, Disabled toilets, wheelchair ramps, disabled parking.
Babbacombe Model Village: Wheelchair available on request, disabled toilets.
Berry Head Country Park: Electric wheel chair for hire, accessible walks.
Other attractions you may wish to consider are:
Cockington Craft Studios and Park
Dartmouth Steam Rail and Riverboat Company
Occombe Farm.
Riviera International Centre
Torquay United Football Club
Brixham Museum.
Greenway Ferrys.
What's Nearby
Coming on holiday and want to save money on Car Parking order a Torbay Council weekly or 3 day car...

0 miles away

Toilets for people with disabilities are accessed with a RADAR key. The RADAR Keys can be purchased...

0 miles away

Methodist & United Reformed Churches within the English Riviera

0 miles away

A list of Cider Farms in and around the English Riviera.

0 miles away
List of Breweries in and around the English Riviera.

0 miles away

Vineyards in and around the English Riviera

0 miles away

Church of England Churches within the English Riviera

0 miles away

Roman Catholic Churches within the English Riviera

0 miles away

Pentecostal Churches within the English Riviera

0 miles away

Torquay's Dinosaur World is an exciting exhibition that brings dinosaurs and their worlds to life! ...

0.02 miles away

The Torquay Land Train is a fun way to get around Torquay for all ages! Further information can be...

0.03 miles away

Explore the English Riviera on the open-top bus sightseeing tour! It's the perfect way to relax and...

0.04 miles away

Evangelical Churches within the English Riviera

0.06 miles away

Churches of Various Denominations within the English Riviera

0.06 miles away

The English Riviera has 22 miles of coastline, all of which can be discovered on the South West...

0.07 miles away

Are you bringing a group to the English Riviera to experience all it has to offer? Or are you an...

0.07 miles away
Previous
Next